Chapter one—The Roots of Greenbelt
For 30 years we've been rooted in this place, and today we're going to take a walk back to explore the story of place and people within Greenbelt, before we pivot and dream about what the future holds.
Today marks 30 years of Greenbelt … Right? We signed the IRS papers in 1989, so that's the word on the street.
But, not so fast. Like our beloved oak trees, there is a lot of work and growth that happens before one can sit in its shade or hang a tire swing from it's branch.
Today really marks 60 years of Greenbelt Land Trust! For 30 years, the concept of what we would be molded and took shape.
So, we'll start here BG (Before Greenbelt)!
Our story starts, as all good ones do – with visionary people.
In books, these are our heros and heroines.
At GLT, that's Charles and Elsie Ross.
Check them out in their pink polyester and flower corsages! This photo was taken in 1979, when Charlie, Elsie, and hundreds of their friends, community leaders, state representatives, the mayor – hiked to the top of Chip Ross to dedicate this park in honor of the Ross's son, Chip, who had passed at the tender age of 16.
On that hillside, which was the 1st investment made personally by the Ross's towards our open spaces, Charlie challenges the audience.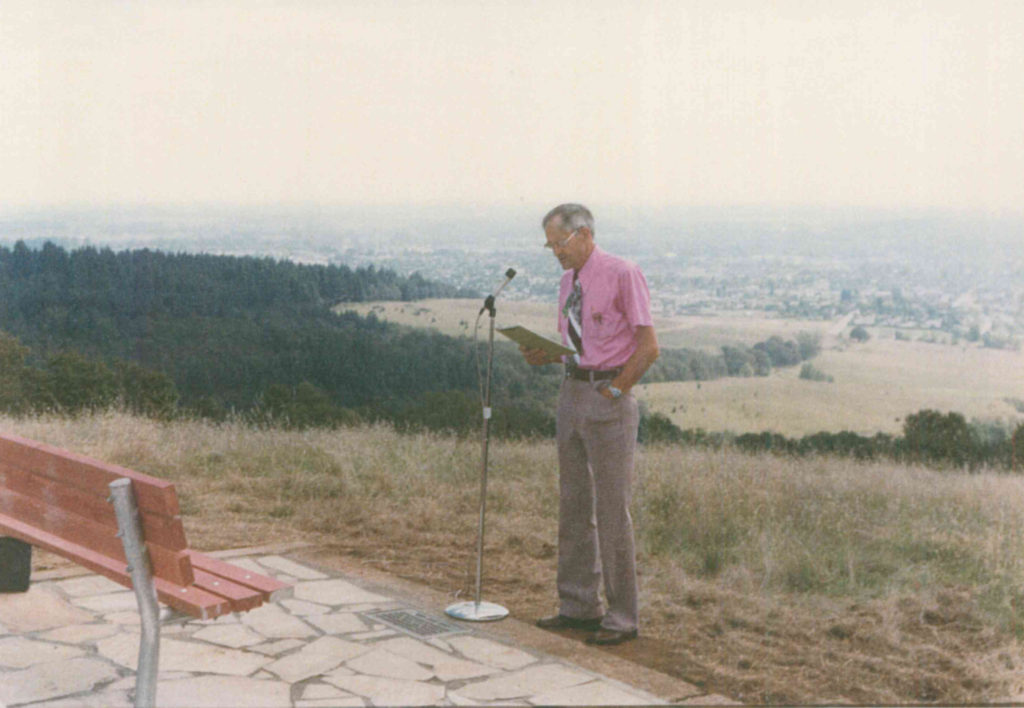 It's NOW OR NEVER, he said.
Remember, this is 1979 – Greenbelt Land Trust wasn't even a glint in their eye!
But, that doesn't mean Charlie wasn't thinking about the concept.
Starting in the 50s, Charlie began a one-man rally to inspire friends, coworkers, really – anyone who would listen – to think about the future of open space set-asides.
This was a man on a mission!
In the 80's, after MANY failed, Charlie met a kindred soul in Benton County Parks Director, Jerry Davis.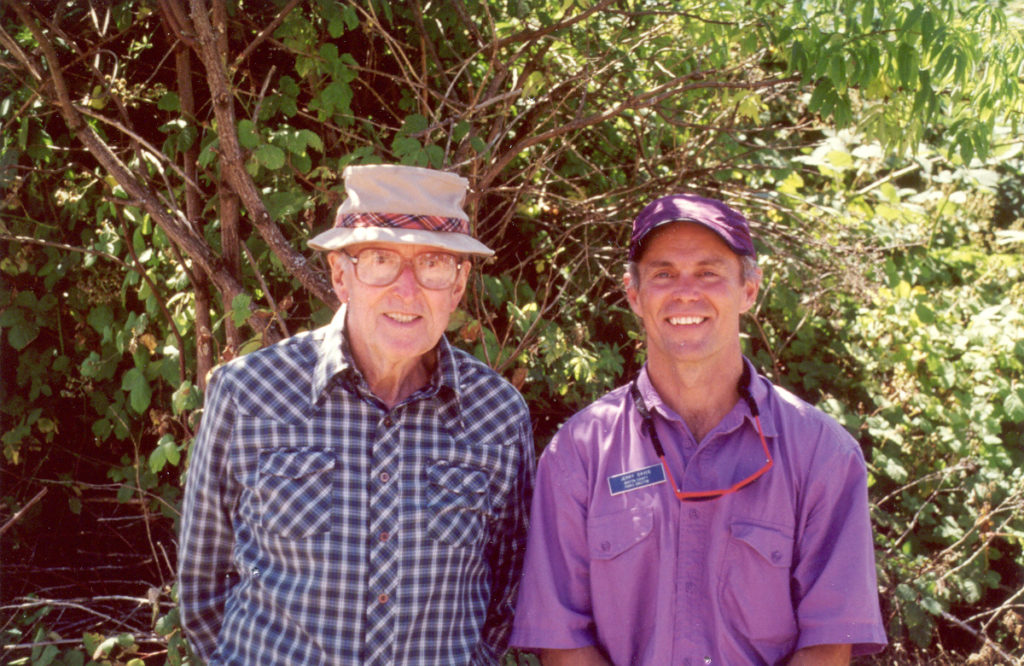 Together, they inspired County Commissioners, staff, our community – to take a leap into the unknown and launch a fund for open space protection. The Greens Trust was established through a generous donation by the Rosses, which enabled the early acquisitions of what was later known as Fitton Green Natural Area.
Even through any of us would have stopped there and called success, Charlie had a bigger vision. He wanted more.
He was also growing weary of leading the charge – his hope having always been to use his gifts and leadership to inspire others to follow suite.
Mere years before GLT formed, he felt defeated. "I haven't made a difference. I'm getting beat. I'm losing", he said.
However, this was to pass.
Because what do we have next, but the formation of Greenbelt Land Trust!
The questions remained, as any fledgling organization has …
Would it falter or would it thrive?
Stay tuned for Chapter 2 in our next blog!