Anyone Can Be a Naturalist
All You Need is a Love
A conversation with Greenbelt volunteers Don Boucher and Lisa Millbank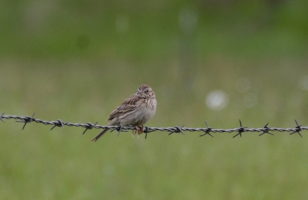 For Don and Lisa, supporting Greenbelt is a no-brainer. "We support Greenbelt Land Trust because their work is vital to making local nature valuable to residents of the Mid-Willamette Valley. We believe that local natural areas, and the species that live here, should be familiar and accessible to Mid-Valley residents. Because of GLT's land protection, events and programs, they are indispensable allies to Lisa and me. We consider the GLT staff and volunteers to be good friends and valuable acquaintances. We offer some of our time, experience, knowledge and enthusiasm to support GLT whenever we can," said Don.
Lisa's journey to Greenbelt began when she was a child in Medford, Oregon catching a variety of insects and lizards to keep as pets. She also fell in love with bird watching at a young age, exploring birding spots in the region either with her dad or occasionally, with the Rogue Valley Audubon Society. As an adult, Lisa engaged in seasonal survey work for the American Bird Conservancy and eventually, turtle nest surveys with Greenbelt. Lisa's passion for nature includes landscaping and cultivating more than 100 species of native plants, vegetables, fruit trees and berries in our yard in residential Corvallis.
Don's journey to Greenbelt also began young, growing up in Northeast Pennsylvania, spending time in state forest land across the street from his childhood home. Years later, Don moved to Spokane, Washington where he studied graphic design at Eastern Washington University, and after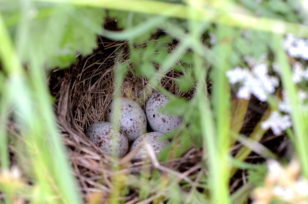 graduating, he established a career as a graphic designer, photographer, and videographer. Don relocated to Corvallis in 1995 and joined The Audubon Society of Corvallis in 1997 where a newfound passion for birding ignited his already deep-rooted passion for nature.
Wanting to learn as much as he could about all aspects of local nature, Don participated in a two-year-long home-study course from the Wilderness Awareness School—with these new skills and tools Don had the foundation to systematically focus on nature in his bioregion.  From there, he started the Neighborhood Naturalist program in order to network with local naturalists who were interested in a broad approach to the exploration of local nature.
Lisa and Don's journey to each other led them to First Alternative Natural Foods Co-op, where Lisa worked, and Don was a loyal member. It wasn't until they ended up in same count area during Audubon Society of Corvallis' Christmas Bird Count in 2003 that their relationship began to bloom.
From that point on, Don and Lisa became the dynamic duo behind the bioregionally-oriented Corvallis' Neighborhood Naturalist program. "The natural assets of Corvallis and the Mid-Willamette Valley are as important to us as the people who live here. Whenever Lisa and I go on a trip outside our bioregion, we have fun with the novelty of different species and landscapes, but we're always happy to get back to our familiar critters, plants and natural places in the Willamette Valley. We believe that understanding and loving local nature is crucial to a well-rounded and realistic understanding of the world around us. We also realize that if residents make local nature a regular part of their lives, this will lead to a sense of joy and value in the place they live," said Don.

The Neighborhood Naturalist program publishes a quarterly newsletter that features in-depth profiles of local nature topics, available to view by everyone. "After Lisa got involved in the newsletter, it was obvious that we were a good match. Lisa has helped me make the Neighborhood Naturalist program much more than I could have ever done on my own," said Don.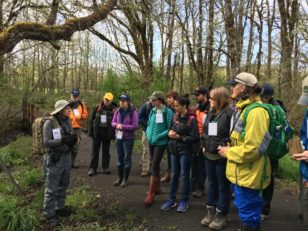 Neither Don nor Lisa are biologists, showing that anyone can be a naturalist. "The Neighborhood Naturalist program relies heavily on science and we sometimes collaborate with local scientists. However, we want to make it clear that nature is everyone's domain, and that you don't need to be a biologist, or have an advanced degree, to enjoy and comprehend nature. Sometimes people assume we're formally educated in ornithology or botany, etc., but all our knowledge comes from resources available to anyone, and just as importantly, from experience with nature in our own area," said Don.
This April, Don and fellow naturalist, Molly Monroe, will kick off the seventh season of Greenbelt's Volunteer Naturalist program where they will impart their knowledge and share their passions for the remarkable nature of this area. Volunteer Naturalists play a key role at Greenbelt Land Trust, as ambassadors, trail guides, and naturalist resources for the community who visits Bald Hill Farm. So, this summer, when you are out on the trail at Bald Hill Farm, be sure to stop and say hello to Don, Lisa or other Greenbelt Volunteer Naturalists!