30th Annual Meeting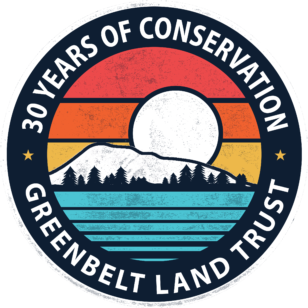 30 Years of Conservation and Community! We have a lot to celebrate with you and because of you! All members, volunteers, and friends—seasoned and new—are invited to join Greenbelt on February 28th as we celebrate this momentous anniversary and envision what the next 30 years will bring. We're stepping into a new era of the land trust and thinking deeply about our path forward.
How might we close the missing links of trail corridors locally?
How can we deepen our impact to improve water health for communities around us?
How are we making meaningful connections with everyone in our community?
Come, be inspired, and lend your voice to the next chapter of Greenbelt Land Trust!
Enjoy local food, music by guitarist Adam Scramstad, and connect with other passionate people who care about the future of our Valley. Whether you are a long-time supporter of Greenbelt or inspired by our work, all are welcome. We look forward to spending an enriching evening with you. Together, we will continue the significant work of conserving our lands and waters for people and wildlife!
Location: First Presbyterian Church's Dennis Hall, Corvallis, OR
29th Annual Meeting
Greenbelt Land Trust's 29th Annual Meeting is about YOU- our members and friends!  Each year we celebrate you and the work that you make possible. We will reflect on the successes and challenges of 2017 and glance ahead to 2018's exciting projects and programs.
Join us for local eats, acoustic guitar music by Adam Scramstad, and an inspiring keynote presentation from the award-winning Oregon author and poet, Henry Hughes.
All are welcome to this free event. We look forward to spending an evening with you at the First Presbyterian Church, Dennis Hall addition.
Keynote Speaker:
Henry Hughes grew up on Long Island, New York. After completing an MA in Creative Writing at Purdue University in 1990, he spent five years working in Japan and China. He has lived in Oregon since 2002. Hughes is the author of four collections of poetry, including Men Holding Eggs (2004 Oregon Book Award), Moist Meridian (2011 Finalist for the Oregon Book Award), and Bunch of Animals, new from Cloudbank Books. His poems and essays have appeared in Antioch Review, Carolina Quarterly, Shenandoah, Seattle Review, Gray's Sporting Journal and Harvard Review where his book reviews regularly appear. His fishing memoir, Back Seat with Fish: A Man Adventures in Angling and Romance, was published this spring by Skyhorse. He is the editor of the Everyman's Library anthologies, The Art of Angling: Poems about Fishing and Fishing Stories. Hughes is a professor of literature and writing at Western Oregon University.
27th Annual Meeting
Come and visit with us at our 27th Annual Meeting! Visit with friends, hear about our accomplishments from 2015 and learn about the work we have planned in the year ahead. We are honored to have guest keynote speaker Phil Mote, director of the Oregon Climate Change Research Institute, to share projections for the Willamette Valley and the role people play in future climate scenarios. Greenbelt's annual meetings are always a lively affair, filled with dynamic conversation, great food from Gathering Together Farm, and friends – don't miss it!
This year we are bringing to the membership a proposed update to the Greenbelt Land Trust bylaws for approval. For more information about the bylaw edits and to review changes, Click Here.