Paint-Out on the Farm
Join Greenbelt and Vistas & Vineyards for a plein air painting event at Bald Hill Farm. In the beautiful morning light, paint pastoral scenes of rolling hills, oak groves, barns, cows, and a breath-taking view of Mary's Peak.  You'll explore and paint from sites accessible only through Greenbelt-led tours. This event will be facilitated by local artist and Vistas & Vineyards member, Peg Elefant. No experience necessary! Bring your own materials for this no-instruction event where we'll paint simply for our own delight. Bring a picnic lunch and stay for a Gallery (not a critique) where we'll enjoy each other's efforts.
Registration
For more information or to RSVP, email Rebecca. Location and additional details will be provided upon registering.
Walk With a Naturalist
Join Greenbelt Naturalist, Don Boucher, for a morning nature walk at Bald Hill Farm. Discover the fascinating flora and fauna along the trails, including mid-summer wildflowers, butterflies, birds, and reptiles. Get up-close and personal with critters along the trail with provided hand lenses. We'll also keep an eye out for threatened and endangered species that this conservation area helps to protect.  This is a free, family-friendly walk. No RSVP is necessary.
Leader:
Don Boucher is a renowned and passionate Naturalist and dedicated Greenbelt Land Trust volunteer. He, along with Lisa Millbank, promote the understanding and appreciation of local nature through their Neighborhood Naturalist program.
Location & Directions:
Meet Don at/return to the trailhead kiosk/bridge at the NW Oak Creek Drive parking lot of the Bald Hill Natural Area. You can click the map HERE for trailhead location and directions (http://therighttrail.org/trails/oak-creek-trail).
Parking:
The parking lot is small, so please arrive a few minutes early to find a spot. Walking or biking encouraged!
What to bring/wear:
Sturdy, close-toed shoes
Hat and layers according to the weather
Water, snacks
Camera and binoculars (optional, but recommended)
For questions or more information, please email Rebecca or call the Greenbelt office at (541) 752.9609
*Please note: Because we love our furry friends, we want to ensure that they (and our human friends) stay safe, so we request that you please do not bring pets on this walk.
Yoga Hike
Rejuvenate yourself while immersed in nature! Join Greenbelt and Live Well Studio for outdoor yoga at the beautiful and iconic Bald Hill Farm. Certified yoga instructor, Jocelyn Darshana, is the manager of Live Well Studio and has over 10 years of yoga practice and teaching experience.  The session will be 90 minutes and will include stretching, a yoga hike, and relaxing guided meditation. All levels are welcome and no experience is required! Bring a lunch and stay for an optional picnic at noon. Herbal tea provided.
Registration
To RSVP and for more information (including location and directions), please email rebecca@greenbeltlandtrust.org.
2018 Symphony on the Land
The 7th Annual Symphony on the Land awaits you at Bald Hill Farm! Event sponsors Greenbelt Land Trust and the Corvallis-OSU Symphony invite you to come and enjoy a beautiful evening outdoors, surrounded by friends and family.
This year's innovative program features a diverse range of talented ensembles, culminating in a collective performance featuring all three groups, including:
See the concert program HERE!
TICKETS (Below or Online HERE)
$20 for General Public
$15 Greenbelt Land Trust Members and Student Rate
16 and under – Free!
Tickets are available to purchase online (below or Click Here) or for sale at the event. Cash, check or credit cards will all be accepted at the event.
TRANSPORTATION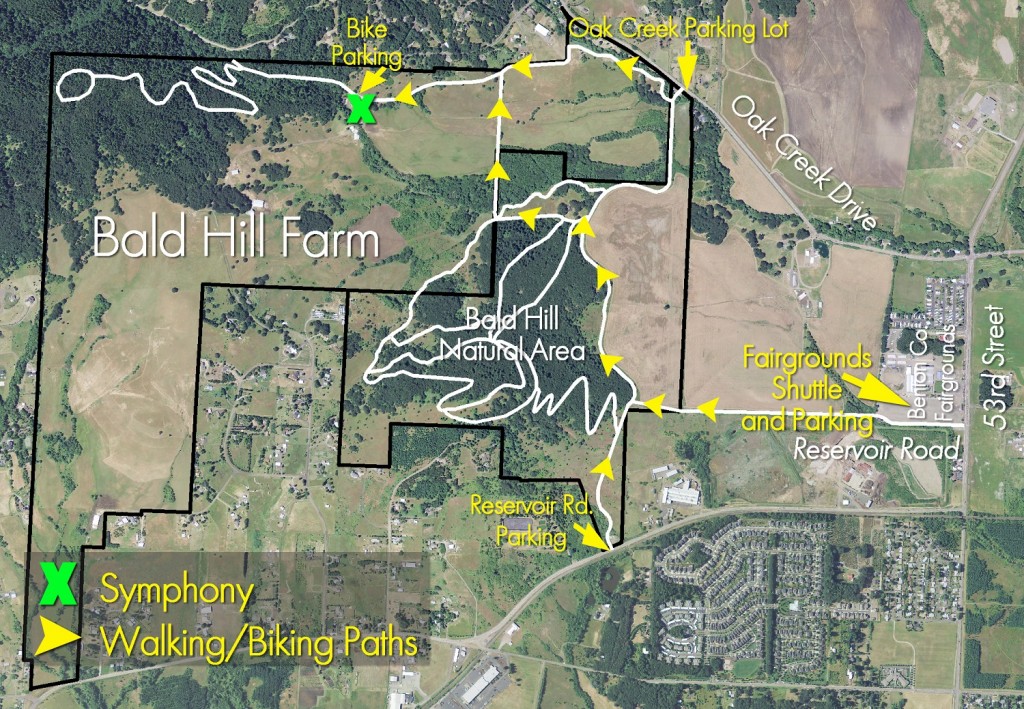 ** Walking/biking map to venue can be found HERE
WALK IN: Park at Fairgrounds, Oak Creek Drive, or Reservoir Rd.
SHUTTLE: Park at Fairgrounds (on 53rd St. near the large electric Fairgrounds sign)- Shuttles will leave Fairgrounds (starting at 4.00pm) approximately every 20 minutes to the Symphony site at Bald Hill Farm. The last shuttle will leave for the Farm at 4.40 pm.
BICYCLE IN: Bicycle in! Free bicycle valet will be available on-site
SOLAR POWER: Provided thanks to OSU's Solar Trailer team.
FOOD/WINE/BEER
Please feel free to bring a picnic and your own beverage OR purchase delicious wine, beer, and food thanks to Tyee Wine Cellars, Mazama Brewing, and Natalie's Mex-Kart.
VOLUNTEERS
Volunteer for the Symphony on the Land and receive two complimentary tickets to this year's concert! Sign up to volunteer HERE.
Remember to bring a lawn chair, or blanket to sit on.
Dogs are not allowed.
Questions? Contact us at 541.752.9609.
We look forward to seeing you at the 7th Annual Symphony on the Land!
Delve Into Your Passion
What are you passionate about? This was the prompt by writer and workshop teacher, Henry Hughes, this past week at a nature writing workshop at Bald Hill Farm to celebrate Oregon's Get Outdoors Day.
You know what? Asking people what they are passionate about is a really cool way to spawn an interesting conversation, full of sweet insights into the minds of colleagues, family, friends. Even better when that's the first question you ask a new acquaintance. I shared my response first, blurting out something about the Willamette Valley, only to kick myself moments later as others shared their own passions, each more interesting than the next. 'Turtle cognition' pronounces a writer who I recognize from previous writing workshops. 'Creative problem-solving' says another (a lawyer), followed by 'giving voice to the non-human among us', and 'movement'. Wow – what an interesting lot, I think.
With the front door open, we can smell rain as it starts to drop onto the driveway pavement.
Henry probes each of us, teasing out the nuances of our passions, questioning us when we gloss over details. By the end of the circle we share a sense of kinship – a mutual respect arising out of shared vulnerability and inquisition.
We read a few nature poems together – each delightful, poignant. Mary Oliver's "Turnip-Hearted Skunk Cabbage", Galway Kinnell's "Gray Heron", Lisa Bellamy's "Wild Pansy" (really – read this one!). Each offering a turn, a surprise, an insight into the natural world around us.
Then, we are tasked to write. Follow your passion, delve deeper and head outdoors, instructs Henry. The group of 25, notebooks at the ready, head every-which-way. Some up the hillside trail, others beckoned to the cows in the pasture. One takes off her shoes to walk in Mulkey Creek.
Too soon, our writing is wrapped – we convene to share scrawled poetry and prose. I am, as ever, humbled by the beauty that spills forth as my peers read. Water is a big theme (it's hard not to ignore the June rain), and the cows in the nearby field served as muse for many. Spiders and flies also made appearances. Vultures and pansies, too.
What a great morning!
Bald Hill Farm is a generous host, giving us fodder for filling notebooks among the pastoral pastures, creeks, and fern-forest canopies. I am thankful for this place and for these people who want to create words together.
This is what Bald Hill Farm is about, and I'm glad that it's there for us all.
So … what are you passionate about?
Blog post: Jessica McDonald