Family Walk: Say Cheese, Go Wild!
How do biologists study wildlife from afar yet get so up-close? Get a unique hands-on look into how we "capture" wildlife using remote trail cameras. Go for a guided walk, put cameras along the trail, see what critters we film, and take a photo home with you. Join Greenbelt Land Trust and Greenbelt Volunteer Naturalist and OSU biologist, Jonny Armstrong, for this free, kid-friendly event at the Bald Hill Farm conservation area. Light snacks provided. Space is limited, so RSVP today!
*This event is brought to you by Greenbelt Land Trust and Hike it Baby.
Registration
For more information or to RSVP, email Rebecca or call the GLT office at 541.752.9609. Location and additional details will be provided upon registering.
New Year's Resolution Ramble
Feeling energized for 2019? Or maybe you want to burn off those holiday cookies? Jump start your new year with a calorie-burning invigorating hike, stretching, and guilt-free New Year's visioning.  Join Greenbelt Land Trust and Live Well Studio instructor, Jocelyn Darshana, for a guided walk at the beautiful Bald Hill Farm conservation area. Enjoy complimentary herbal teas and a healthy snack. New Greenbelt members welcome! No resolutions required.
Registration
For more information or to RSVP, email Rebecca or call the GLT office at 541.752.9609. Location and additional details will be provided upon registering.
Why I Care & Give
I was asked recently why I, as the Executive Director of Greenbelt Land Trust, give to Greenbelt monthly and why Greenbelt is in my estate plans. Why donate to the non-profit for which I've been working for nearly a decade? In a word, passion. But there's much more to it that makes a world of difference for our local Valley.
While walking on the Mulkey Ridge trail one sunny day this Fall when the air was cold and the golden brown and red maple and oak leaves covered the trail, I was thinking of a recent news report about the potential for life on Mars.  These articles are now regular news features partly because of the explorations by NASA of the planet's surface and partly because of our obsession with finding life on other planets. The article mentioned that the likelihood of life on the red planet got a little stronger with the hypothesis that salty waters near the surface may support some microbial life.  Other news reports frequently mention the possibility of habitable exoplanets in our galaxy out of an estimate of 40 billion earth-sized planets.
While pondering the excitement of these reports, I reflected on our own planet.  Last summer, we had a wonderful walk on Luckiamute Meadows with James Cassidy from Oregon State University who talked about the "World Beneath Our Feet" and the astonishing diversity and complexity of subsurface life. Apparently, when you place your feet on a square meter of soil you may be walking on 1 billion bacteria, 100 million protozoa, 5 million nematodes, 100 thousand mites, 50 thousand springtails, 10 thousand rotifers and a host of other creatures (perhaps even 100 slugs or so).  Life abounds on the surface of Earth (and a little below the surface) in incalculable numbers. The latest guess is that Earth has about 8.7 million different life forms. For example, there are 950,000 species of insects and 369,000 species of known plants. There are even more than 3,500 species of mosquitos. How many species of mosquitos or insects or plants have been found on Mars or for that matter anywhere in our solar system, galaxy, or Universe aside from those on Earth?
Our planet is extraordinarily unique!  Life emerged on Earth about 3.7- 4 billion years ago and evolved in so many spectacularly astonishing ways that it is hard to consciously grasp the full scope of the history or understand the outcomes. So back to the question of why I give to Greenbelt?  Every square inch of the Earth is precious. Our planet is the most wonderful world in the Universe and, in my humble opinion, Oregon and the Willamette Valley are some of the most wonderful places on earth.  I give for every square inch of soil teeming with life and the large majestic old oaks with roots intertwined with this subsurface life that feeds its broad gnarled trunks and muscular branches.  I give to see beautiful gray squirrels sitting on the oak branches eating acorns and red-tailed hawks perched in the upper reaches of the oak canopies waiting for a mouse or vole to appear in nearby meadows. I give for all the other life that nourishes our existence, gives us beauty and pleasure, and promises a thriving future for our children.
Fall Harvest Family Day
Let's celebrate the fall harvest at Bald Hill Farm! Greenbelt Land Trust and the Corvallis Environmental Center invite you to enjoy the beautiful scenery and a host of fun fall activities at Bald Hill Farm.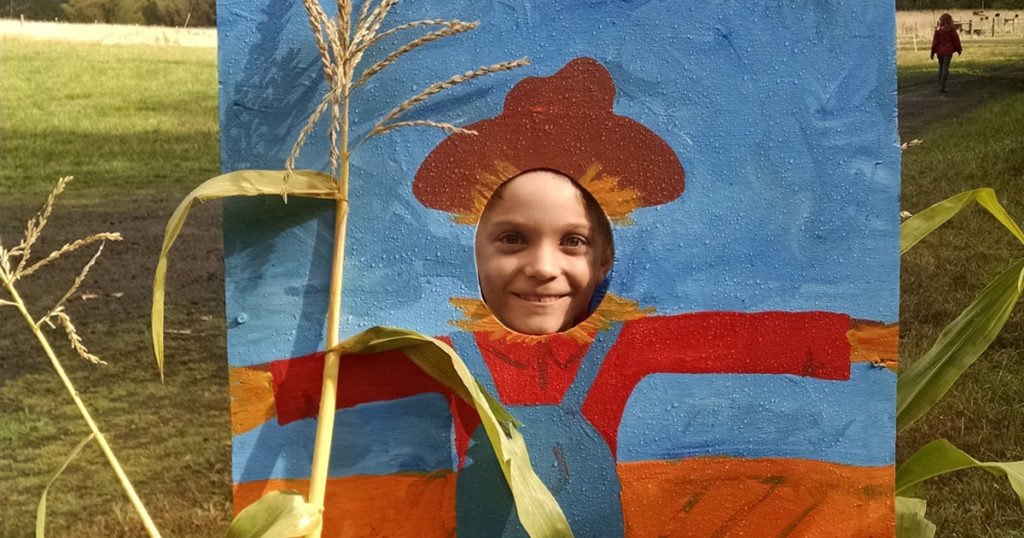 Come on out for apple pressing and apple cider tasting, guided nature walks for kids of all ages, apple cider donuts, pumpkin decorating, face painting, outdoor games, and more!
We are excited to have When Picks Fly play live, old-time string band music!
This event is free, open to the public, and great for the whole family, so bring your kids and a picnic lunch to enjoy at the Farm.
REGISTRATION
Please RSVP by emailing rebecca@greenbeltlandtrust.org or call the GLT office at (541) 752.9609.
TRANSPORTATION
** Walking/biking map to the event can be found below.
WALK: Park at Benton County Fairgrounds, Oak Creek Dr. parking lot, or Reservoir Rd. parking lot, and walk to the Bald Hill Farm farmhouse.
BIKE: Bicycle in- it's a beautiful ride to the Farm!
DRIVE: Free but limited parking is available. Walking and biking are encouraged. Follow event signs along 10 m.p.h farm road. Farm road entrance near: 6780 NW Oak Creek Dr., Corvallis, OR 97330
FOOD/DRINK: Complimentary fresh-pressed apple cider, healthy snacks, and apple cider donuts available. Feel free to bring a picnic lunch and a lawn chair or blanket to sit on.
Stay for the whole event or for just a while. We look forward to seeing you at the 2nd annual Fall Harvest Family Day!
THANK YOU, SUPPORTERS!:
Silvernail Farm and Orchard (Kings Valley), The Melon Shack (Corvallis), Davis Family Farm (Corvallis), NH-HAY, INC. (Tangent)
*Please keep your furry friends safely at home – pets, other than assistance animals, are not permitted in this part of the Conservation Area.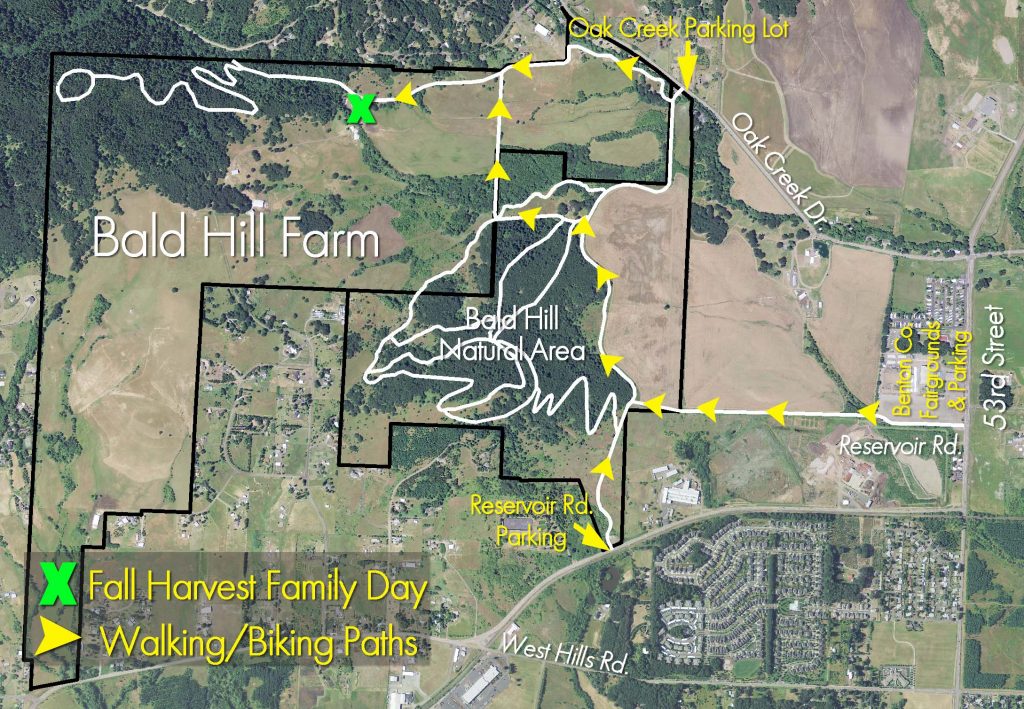 Plant a Tree Volunteer Day
Be a conservation hero! Volunteer to help plant native trees and shrubs at Bald Hill Farm. Plant for the health of our community, enhance migratory bird habitat, and support youth in the cross-cultural Willamette River – Rio Laja Mexico education partnership. Your participation alone will allow Rio Laja Mexico students to receive a $1,000 donation to support their environmental education exchange with Corvallis students.
Join Marys River Watershed Council, Institute for Applied Ecology, and Greenbelt Land Trust at Bald Hill Farm on Friday, September 28th from 3 – 6 pm. This is an "open house" format so you can come to plant during all or part of this time.
Help Our Youth:
Your help as a volunteer will help us raise the necessary funds for students in Mexico to be able to participate in this cross-cultural environmental education exchange! One Tree Planted, a non-profit organization that supports native tree planting, will donate $1,000 for this Plant a Tree Day event. Marys River Watershed Council, Institute Applied Ecology, and Greenbelt will donate these funds to our Rio Laja Mexico education partners.  Students from Corvallis public schools will be at Bald Hill Farm this school year to learn about and enhance habitat for migratory birds that spend time in both the Willamette and Laja River Basins.  These outdoor field days will be offered in both Spanish and English.
Registration:
To sign up, please fill out the short form below.
Questions? Email jessica@greenbeltlandtrust.org or call the GLT office at (541) 752.9609. Additional details will be emailed upon registering.