Yoga Hike
Rejuvenate yourself while immersed in nature! Join Greenbelt and Live Well Studio for outdoor yoga at the beautiful and iconic Bald Hill Farm. Certified yoga instructor, Jocelyn Fultz, is the manager of Live Well Studio and has over 10 years of yoga practice and teaching experience.  The session will be 90 minutes and will include stretching, a yoga hike, and relaxing guided meditation. All levels are welcome and no experience is required! Bring a lunch and stay for an optional picnic at noon. Herbal tea provided.
Registration
To RSVP and for more information (including location and directions), please email rebecca@greenbeltlandtrust.org.
2018 Symphony on the Land
The 7th Annual Symphony on the Land awaits you at Bald Hill Farm! Event sponsors Greenbelt Land Trust and the Corvallis-OSU Symphony invite you to come and enjoy a beautiful evening outdoors, surrounded by friends and family.
This year's innovative program features a diverse range of talented ensembles, culminating in a collective performance featuring all three groups, including:
TICKETS (Below or Online HERE)
$20 for General Public
$15 Greenbelt Land Trust Members and Student Rate
16 and under – Free!
Tickets are available to purchase online (below or Click Here) or for sale at the event. Cash, check or credit cards will all be accepted at the event.
TRANSPORTATION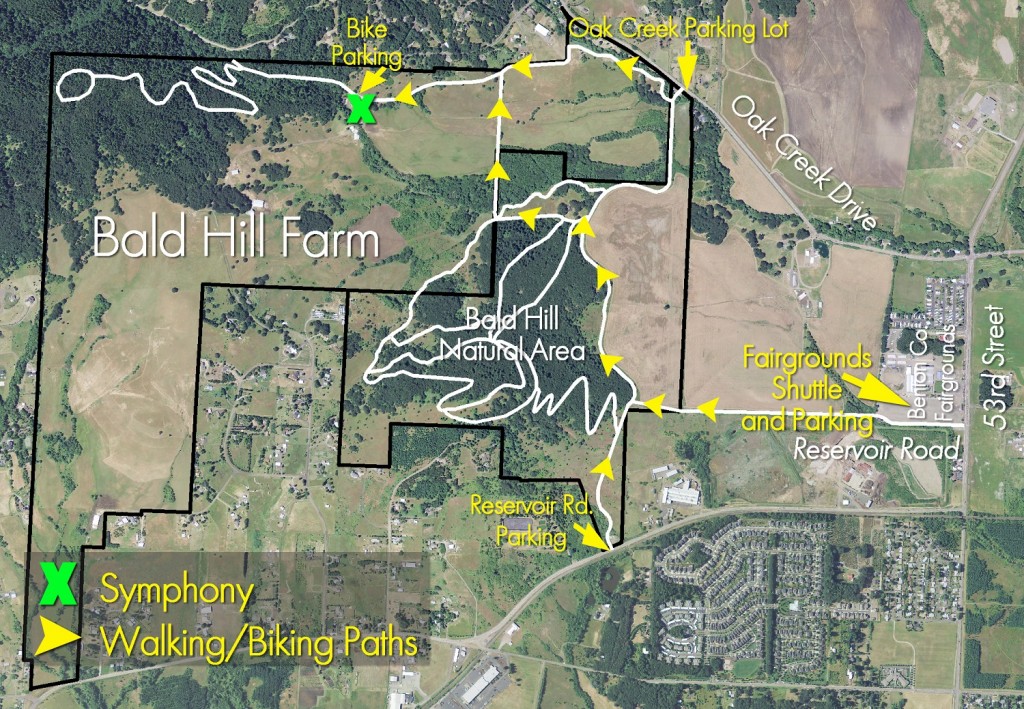 ** Walking/biking map to venue can be found HERE
WALK IN: Park at Fairgrounds, Oak Creek Drive, or Reservoir Rd.
SHUTTLE: Park at Fairgrounds (on 53rd St. near the large electric Fairgrounds sign)- Shuttles will leave Fairgrounds (starting at 4.00pm) every 15 minutes to the Symphony site at Bald Hill Farm.
BICYCLE IN: Bicycle in! Free bicycle valet will be available on-site
FOOD/WINE
Please feel free to bring a picnic and your own beverage OR purchase wine/beer and food on site.
Food and beverage vendors to be announced soon.
VOLUNTEERS
Volunteer for the Symphony on the Land and receive two complimentary tickets to this year's concert! Sign-up to volunteer HERE.
Remember to bring a lawn chair, or blanket to sit on.
Dogs are not allowed.
Questions? Contact us at 541.752.9609.
We look forward to seeing you at the 7th Annual Symphony on the Land!
Kids Wildlife Walk & Crafts ***FILLED***
***This event is currently full. To add your name to the waitlist, please email Rebecca. You will be contacted as soon as possible if space becomes available.
It's Earth Day! Let's get outside and explore nature through stories, the imagination, and play. We'll learn about the birds, carnivores, and other species of wildlife that live at the Bald Hill Farm conservation area. Join Greenbelt Land Trust and Chintimini Wildlife Center for a kid-friendly outing where we'll take a guided nature walk along the forested Mulkey Ridge trail in search of wildlife signs, enjoy a group story about Oregon's wildlife (written by a local author), and make a wildlife-themed craft you can take home. There will also be special appearances by live Chintimini bird ambassadors!
This event is free and family-friendly. Although kids of all ages are welcome, this event is ideal for ages 4 to 8. Light snacks provided. Space is limited.
*This event is brought to you by Greenbelt Land Trust, Chintimini Wildlife Center, and Hike it Baby.
Volunteer Naturalist Orientation
It's the 6th year of Greenbelt Land Trust's Volunteer Naturalist program! Are you interested in being a Volunteer Naturalist? If you are a returning Naturalist or have always wanted to be one, now is your chance to be part of this enthusiastic and fun group for the 2018 season. Sign-up today!
DO YOU…
-Love exploring the outdoors in Corvallis?
-Enjoy sharing your passion for nature with the public?
-Want to help your community better appreciate the natural history of Bald Hill Farm and the mission of Greenbelt Land Trust?
If you said 'YES!', you're invited to attend the upcoming Volunteer Naturalist Orientation.
*To sign-up, please fill out the short form below. Your information will not be shared.
PROGRAM HIGHLIGHTS:
1) Volunteer Naturalist Orientation– Saturday, April 7th from 9:30 am-3:00 pm
Naturalists maintain a friendly presence at Bald Hill Farm throughout the summer, provide informal visitor outreach, and keep an eye on management issues. Participants will learn about the nuts and bolts of being a Volunteer Naturalist and receive training in the natural history of Bald Hill Farm, the mission of Greenbelt Land Trust, interpretation skills, and more. Classroom and field training will be provided. Previous experience is not necessary. Registration is limited to 25 people.
2) Complete/Update Your Volunteer Forms– additional items will be sent to you when you sign-up
3) Volunteer – 4 or more 2-hour shifts between April-July 2018 on a flexible schedule (weekends and select weekdays).
TOUR GUIDES:
—Naturalists have the option to be Tour Guides to lead their own walks or assist guest experts in leading outings on Greenbelt lands.  Tour Guides may also lend a hand in managing large groups, answering questions, and registering participants.
GOOD TO KNOW:
—Many participants volunteer as couples or families. Youth under 18 can participate when accompanied by a parent or legal guardian.
—Are you a Master Naturalist? Ask your instructor how to earn volunteer hours for your program.
Want to learn more about the Volunteer Naturalist Program? Please contact Elizabeth Records: elizabeth@greenbeltlandtrust.org.
Call for Volunteers! Exploring Oregon's Ecosystems/Explorando los Ecosistemas de Oregon
Calling English and Spanish speaking volunteers! Join us for a special volunteer training for Exploring Oregon's Ecosystems/Explorando los Ecosistemas de Oregón, a GLT youth education partnership with the Institute for Applied Ecology and Marys River Watershed Council. We'll learn fun environmental education lessons about water and wildlife in preparation for teaching local 3rd-graders during upcoming spring outdoor field days (see posters below).
*Volunteers should enjoy working with kids and must pass a background check. Being fluent in both Spanish and English is a plus!
RSVP to Stacy Moore, Institute for Applied Ecology: stacy@appliedeco.org or  541.908.1093