Oak Basin Tour: Oak Habitat Restoration & Management for Landowners
Join the Calapooia Watershed Council and Greenbelt Land Trust for a free landowner workshop and walking tour of oak habitat restoration and management sites. Hear from local ecologists and a landowner to learn more about restoring oak savannah and upland prairie habitats. Topics will also include managing lands for Kincaid's lupine and Fender's blue butterfly, connecting meadows, and project development. Lunch is included and will be enjoyed on a property with beautiful vistas!
To sign-up, click HERE or contact the Calapooia Watershed Council at bjoyce@calapooia.org or 541.466.3493.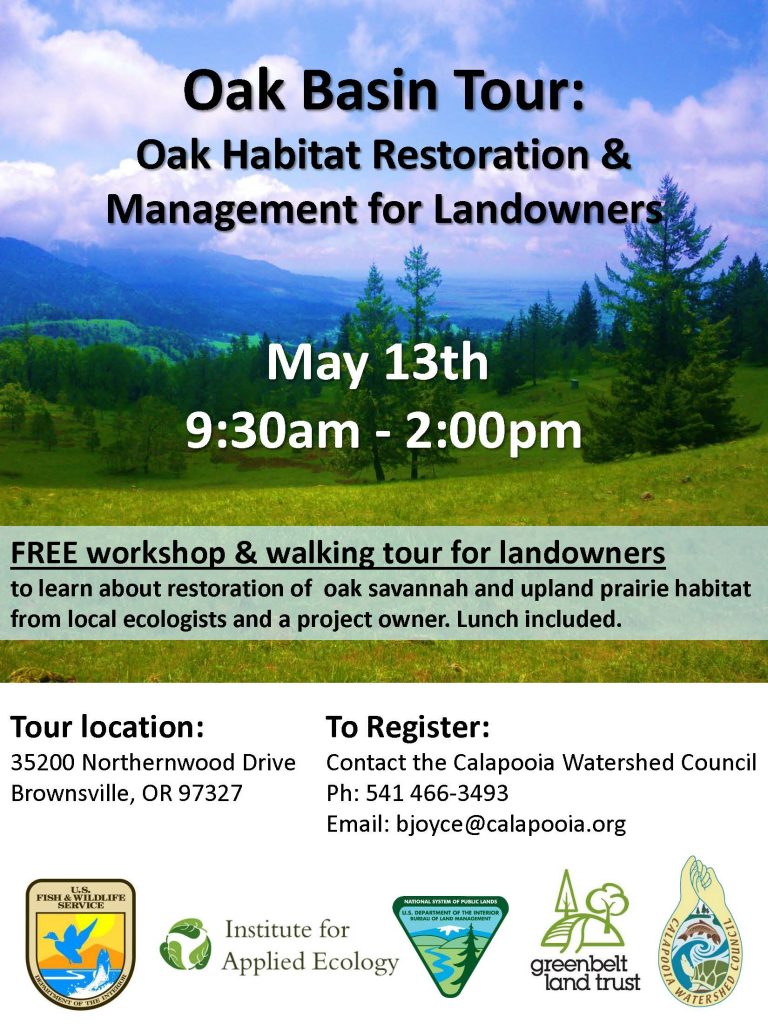 UPRIVER Film Premiere in Albany
Join Greenbelt and partners for a special screening of the local documentary UPRIVER. This 'watershed film' explores one of the Nation's most active river conservation movements. Within Oregon's Willamette River system, the film focuses on people from all walks of life who are coming together to revive the health of this large river and the life it supports. Watch the preview at: www.up-river.org
At this family-friendly event, meet the filmmaker, enjoy light refreshments, talk with representatives from local conservation organizations, and see a visually stunning and powerful film that is sure to leave you feeling inspired!
This free event is brought to you by the Calapooia Watershed Council, Freshwaters Illustrated, Greenbelt Land Trust, and the Albany Public Library. No reservations required. We'll see you there!
Roots to Rivers
Come join us for a festive and fun event! Four local conservation and restoration groups are teaming up to host the 2nd Annual Roots to Rivers; Where Land, Water, and Agriculture Meet … a festive event filled with unique entertainment, delicious eats and drinks, silent auction and wine pull on Saturday, April 18th, 2015 from 6-9:30pm at the Vue in downtown Corvallis (517 SW 2nd St.).
Calapooia Watershed Council, Greenbelt Land Trust, Marys River Watershed Council, and Benton Soil and Water Conservation District  are teaming up to celebrate the land, water, and farms that make the Willamette Valley a unique and beautiful place to live, work, and play. Guests will enjoy a delicious Mediterranean feast showcasing local foods and the finest local craft brews and wines. A silent auction will feature unique services and adventures such as a local garden package; a day's worth of professional carpentry services and consultation, a McKenzie River fly fishing trip for two; and more. The evening's entertainment will include swing music, tarot readings, and jugglers! As the evening stars come out, guests will dance the night away with acclaimed band, Jazzopolis, so put on your dancing shoes and help celebrate the work of these four partner organizations.
Purchase tickets online at www.rootstorivers.org, at both the North and South First Alternative Co-ops in Corvallis, or in-person at partner office locations:
Greenbelt Land Trust and Marys River Watershed Council: 101 SW Western Blvd., Corvallis, OR 97333
Benton SWCD: 456 SW Monroe, Suite 110, Corvallis, OR 97333
Calapooia Watershed Council: 136 Spaulding Ave., Brownsville, Oregon 97327
A round of applause to our sponsors:
Conservation Friends:
* Shauna Curphey & Dietrich Ayala
Thanks to our entertainers:
Music by the Jazzopolis
Tarot by Madame Freya, Ostara, and Fawn
Juggling performances by the Corvallis Throwing Department
Proceeds from the evening will directly benefit the partner organizations working to host Roots to Rivers;