Conservation Book Club Online – H is for Hawk
BOOK CLUB MOVES ONLINE
The most recent meeting of the Greenbelt Conservation Book Club was postponed a few times, so thank you for your patience. We are bringing it back on May 21st, and moving it online!
We will be discussing "H is for Hawk" a memoir from Helen Macdonald, who turns to the training of a young Goshawk in the wake of her father's death. We will set up the online platform, you read the book, and log in ready to discuss it.
Sign up here to save your spot and we will send you more details.
Fall Conservation Book Club Gathering **Postponed to January 2020**
This book club has been postponed to Wednesday, January 22nd, 2020. Register below!
Join us in reading and talking about The Future of Nature by Barry Lopez for our next Conservation Book Club! We hope you will join us in reading this important book and sharing ideas, concerns, insights, and wonders during our gathering on Wednesday, January 222, 2020 (originally scheduled for October 17th).
"The western mindset is arguably one of the greatest threats to the world's ecological balance. Corporatism and globalization are two of the obvious villains here, but what part does human nature play in the problem? Since its inception in 1982, Orion magazine has been a forum for looking beyond the effects of ecological crises to their root causes in human culture. Less an anthology than a vision statement, this timely collection challenges the division of human society from the natural world that has often characterized traditional environmentalism. Edited and introduced by Barry Lopez, The Future of Nature encompasses such topics as local economies, the social dynamics of activism, America's incarceration society, naturalism in higher education, developing nations, spiritual ecology, the military-industrial landscape, and the persistent tyranny of wilderness designation. Featuring the fine writing and insights for which Orion is famous, this book is required reading for anyone interested in a livable future for the planet."
The Greenbelt Conservation Book Club is an inclusive and informal group that meets quarterly to discuss a range of local to worldwide conservation issues. Our goal is to expand our learning and knowledge based on our readings and each other through thoughts, personal experiences, and good conversations. Participation is free and open to all. Books are chosen by group consensus and each quarterly gathering will take place voluntarily at a host's home. Claim your spot below!
Book Club Host:
We're looking for a host and a facilitator for this Conservation Book Club. Please email blythe@greenbeltlandtrust.org if you are interested in hosting or facilitating this wonderful, curious and engaged group.
Book Buying:
You can buy books anywhere, but Grass Roots provides a club discount upon mention of the Greenbelt Conservation Book Club. If you purchase through Amazon, please consider supporting Greenbelt at the same time through AmazonSmile!
35 acres forever!
Greenbelt is excited to announce that we recently closed on a new conservation easement — protecting 35 acres along the Muddy Creek — forever!
Strategically investing in protecting our water sources, habitats and working landscapes are the foundation of Greenbelt's conservation priorities.  The Muddy Creek corridor in Benton County running from Corvallis to Finley Refuge and up into its headwater near Alpine, has been a conservation priority for Greenbelt for nearly 20 years.  This region benefits from the fish, wildlife and plant diversity this corridor provides as well as the increased watershed function.
Muddy Creek is designated a priority corridor for restoration and conservation by Greenbelt and our partners including  U.S. Fish and Wildlife Service, Marys River Watershed Council, The Institute for Applied Ecology, Natural Resource Conservation Service, Oregon Department of Fish and Wildlife, and others.  Greenbelt and our partners are working to create a healthy and resilient region that will continue to support the diversity of species and naturally functioning water systems.
If you can imagine walking through a richly diverse forest dominated by Oregon white oak and Oregon ash trees, native shrubs and flowering understory plants you can understand how this area is a culturally significant area for the bands of Kalapuya Indians who traditionally inhabited this region.  Throughout the basin and specifically on this property, the oak structure found in the riparian habitat range from large open canopy trees with branches sweeping the ground to mixed-aged woodland trees with native understory. The understory includes native shrubs such as Indian plum and snowberry and forbs such as camas and fawn lilies. The riparian forest provides shade and bank stabilization to Muddy Creek along with nutrient cycling and acts as a dynamic interface between land and water. The forest supports an array of wildlife species including deer, cougar and bobcat, red-legged frogs and rough-skinned newts, and resident and migratory birds. A vibrant, resilient and functioning riparian habitat such as this, provides the necessary shade, cover and forage for the fish and wildlife benefits of healthy water and creek habitat.
Muddy Creek is a low gradient valley bottom stream that meanders through the riparian habitat of the property. Unique to the Valley bottom Muddy Creek remains unchannelized and has an active and functioning floodplain that inundates regularly. The stream, swales, and floodplain provide refuge, foraging, and migration habitats for Oregon chub, cutthroat trout, and other native fish.
Conserved lands, like these 35 acres, also help provide clean drinking water, improved floodwater storage capacity, increased groundwater recharge,  and enhanced ecosystem services for downstream communities.
Greenbelt's work to protect the land is strategic and intentional. We develop our conservation priorities around building a connected, healthy and resilient landscape that supports nature and people.
Passing the torch
Recently, Greenbelt's Stewardship Program had a passing of the torch. Longtime Director and amazing leader, Jeff Baker, stepped down from the Director position into a part-time, non-management role and Matt Blakeley-Smith took the helm as Greenbelt's second-ever Stewardship Director. An organic transition that supports exciting next chapters for Jeff, Matt and Greenbelt Land Trust. In these first few months, Jeff and the whole Greenbelt team will support Matt's transition into the Director role. We've been in such good hands and will continue to be so.
After 11 years of leading Greenbelt's innovative and impactful stewardship efforts, Jeff Baker is looking forward to a change that will allow him to spend more time with his children while they are young. "In the last decade, Jeff has nearly single-handedly built Greenbelt's Stewardship Program into what it is today. Under his expert guidance, Greenbelt has successfully brought in over $4 Million in permanent stewardship funds for our properties, launched a region-wide restoration program, and established trusted partners across the Valley. We are thrilled that Jeff is staying with Greenbelt in this new role, continuing to lend his expertise to our growing team," said Jessica McDonald, Greenbelt's Associate Director.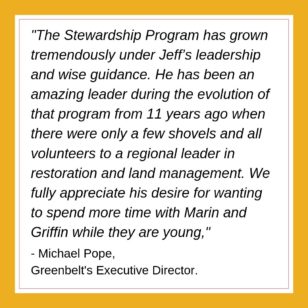 This passing of the torch could not be better timed. "Fortunately, Greenbelt already had a great candidate in Matt Blakeley-Smith to take on the role of Stewardship Director. He's shown himself to be passionate and innovative about caring for our lands—securing funding and restoring 1,000 acres of wildlife habitat and maintaining many more acres. He'll bring many good ideas to the stewardship program. As a Stewardship Coordinator I look forward to working with our conservation easement owners and with our stewardship staff to make the program the best that it can be," said Jeff Baker.
Matt Blakeley-Smith has been with Greenbelt for nearly seven years and brings to his work vision, passion, and commitment for protecting and restoring nature. Matt's journey began studying biology in college because he was fascinated by microscopic invertebrates with scythe-like appendages, predatory plants, and redwood cathedrals. It didn't occur to him—at that time—that biology jobs would be scarce once he graduated. "I feel so fortunate to work for Greenbelt doing what I love, " said Matt Blakeley-Smith.
When it comes to stories of conservation, the media often reports on stories that feel otherworldly, either by distance or direct experience. "The Willamette Valley has its own majesty but we often take those things closest to us for granted. I want to highlight the exquisite diversity that surrounds us, but that may be just out of sight for many people. With the development pressure associated with Oregon's growing popularity, it is essential to me to preserve what we can as quickly as possible," Blakeley-Smith said.
When looking ahead at potential challenges place-based land trusts face, Matt thinks it will be important to also engage communities outside of Benton County, but within Greenbelt's service area to develop our work in ways that are unique to each community, while sharing our core mission of protecting land and connecting people to nature.
"Willamette Valley ecosystems systems are damaged to the point that we can't just let 'nature take its course' since too many pieces of the puzzle have been lost. Our goal is to actively manage the land in order to rebuild key relationships between species, with the understanding that there is no going back to pristine wilderness. Land trusts also have time on our side, so we can continue to adapt and restore the land for decades to come," said Blakeley-Smith.
What drives Matt is the deep desire to see meadows filled with Camas and Shooting Stars where butterflies flutter in abundance and the Meadowlarks sing. He wants farm fields reclaimed by Greenbelt and that frame the Willamette River to develop into forests that can shelter a herd of elk and all other native creatures. And, he wants everyone to have access to the outdoors and abundant opportunities to enjoy nature in their own way.
"It is truly humbling to step back and think about the massive restoration initiatives that Matt has taken on with Greenbelt, including the complex planning to transform entire landscapes into functional floodplain forests and native prairies, building relationships with landowners and funders, and leading outreach programs that inspire others to become land stewards. There are few people as knowledgeable and dedicated to ecology as Matt, and we are all just fortunate to learn from him and have him step into this role as Stewardship Director," McDonald said.
Greenbelt Land Trust offers deep gratitude to Jeff Baker for blazing the trail and a joyful welcome to Matt, stepping in to take the lead.
The Real Batman
An interview with Stuart Perlmeter who has worked with bats for nearly 30 years. During that time, Stuart has also run successful field biology programs for students from the Springfield School District in bat and watershed science research, as well as founding The WELL Project (Water and Energy Learning Lab), a science program that supports hands-on science instruction in the areas of water and energy science.
How did you get interested, then passionate, about bats?
I got interested in bats after reading Richard Dawkins book "The Blind Watchmaker." In this book, one of his chapters focused on the evolution of bats. I was fascinated, got hooked and started reading every bat book I could get my hands on. Then took a two-week field workshop with Brock Fenton on bats and eventually did my Master's under his supervision.
What is your background? Was it a straight path to bats or a winding one?
Not a straight-line path at all.  Worked for 4 years after high school then when I was ready attended the University of Maryland, then transferred to the University of Oregon. I finished with an undergraduate Physical Anthology degree with a focus on Primates. Then I worked for National Geographic on the mountain gorilla project with Dian Fossey after which I received a special education and a biology teaching certificates. Then bats caught my interest and I developed a program in conjunction with the U.S. Forest Service to have high school students collect data on bats all summer. Between 1992-1993 I moved my family to Toronto, Canada and completed my master's in Behavioral Ecology at York University under supervision of Brock Fenton. Finally, I returned to Oregon and continued teaching Biology.
Tell us more about the high school student program you led. 
Once returning to Oregon after my Master's, I continued the program of recruiting high school students to continue my bat research.  Jessica McDonald (Greenbelt Land Trust's Associate Director) joined the program. The goal of the program was to get high school students interested in doing field research. Between 8-10 students were involved in the program each summer and the program was supported by a cost-shared agreement with the U.S. Forest Service. The members of the high school crew worked during summer months capturing, tagging and collecting data, not only for my Master's thesis but the data they collected was useful on bat populations throughout the state. The type of data collected on bats was based on the needs of the U.S. Forest Service-species, roosting data, etc. The crew lived in the woods for much of the three months and returned only to shower, shop for food, and try to get some regular sleep. It was an amazing opportunity offered to high school students and, for the most part, they loved doing the work and spending time as a tight-knit group that had bats in common.
Tell us all about bats! What do they eat?
Some eat fruit, insects, pollen, nectar, other bats, birds, small mammals, fish, and frogs.
How do they hunt?
Microbats hunt using echolocation, while megabats use sight and smell
What are baby bats called?
Baby bats or pups.
Where do bats go during the winter and during the day?
In the tropics, they stay put year-round and just change diet depending on what available. Bats in cooler temperature zones of the world either migrate to warmer locations with food or go into hibernation for the winter. During the daytime bats either roost in the open in trees or in dark roost sites during the daytime. Roosts can include buildings, snags, caves, mine shafts, etc.
How many species of bats are in the U.S.?
About 50 species.
Are bats solitary creatures? 
Some species are solitary but many species form large colonies sometimes exceeding 20 million.
Are bats blind?
No bats are not blind, microbats have small eyes as their primary sense is echolocation, but megabats have well-developed eyes.
How old do bats live, on average? 
Some small microbats have been known to live for over 20 years.
What animals are predators of the bat? 
Other bats, owls and cats.
Given the state of the climate, are bats doing ok?
Like all other animals, they are impacted by climate change as their habitats change and the availability of food changes. They are equally affected by habitat destruction and the use of pesticides.
Thank you, Stuart! We look forward to the next bat night at Bald Hill Farm!