Restoration Tour at Horseshoe Lake
Please join us for this special walk at Horseshoe Lake — which is not open to the public — led by Greenbelt Stewardship Director, Matt Blakeley-Smith. This walk will explore the beauty of the land as well as our conservation work, restoring habitat for wildlife, native fish and chinook salmon. Recently, Greenbelt engaged in earthmoving work at Horseshoe Lake – an oxbow of the Willamette River — to remove two farm roads that were preventing the flow of water limiting refuge for juvenile salmon from river flooding.
Earthmoving for water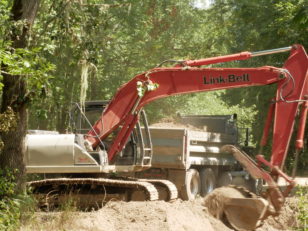 Getting their feet wet: Intel and other big firms begin to fund Willamette River restoration work
BENNETT HALL Corvallis Gazette-Times
Oct 6, 2019
"It's a hot day in late July, and Matt Blakely-Smith is leading a tour of the Greenbelt Land Trust's latest restoration project at Horseshoe Lake, a 236-acre piece of former farm property that wraps around a bend in the Willamette River between Corvallis and Albany.
The nonprofit environmental group has brought in a local excavating firm to take out two raised farm roads that form a dam across the arms of Horseshoe Lake, a cut-off oxbow that once was part of the Willamette mainstem… read the full story here."
The Lonely Oboist…
Tonight we're here looking out over this beautiful valley, listening to brilliant music, enjoying good food in the company of friends. The scene breathes harmony. But we can't take that for granted. An ecosystem is like an orchestra—providing the music to our lives. This particular orchestra is extraordinarily complex and has many many members—the coast range as the big bowed double basses with their nearly tectonic energy, the firs are stately violas. . . . the creeks and the rivers variously flutes or bassoons. Somewhere in there are the frogs, Cooper's hawks, the fungi, and the friendly worms whose roofs we're perching on even now—Every voice, every member seen and unseen, plays a part.  And we must not take this for granted. If one day we awake and sense that the violas have fallen silent, and later notice that the French horns have disappeared. . . and the bassoons are failing, it may be too late to get them back. This vital music will be lost. What we see around us is what we need to see in this place, and what we must leave to our children and their children. Greenbelt Land Trust has been around for 23 year to help ensure that we don't leave our children a lonely oboist playing in a parking lot. That's no substitute for the music our valley provides.
As I'm sure you've noticed, the Greenbelt's recent successful campaigns have received quite a bit of favourable press recently—front page in the Gazette Times, an editorial inside, and various mention elsewhere–  and this is all good.  It draws in new members to the community and energizes others.  Most of the work of the Greenbelt community leaves no sign indicating who was responsible– thirty years from now when some young fisherman pulls a trout from the cool waters of the Horseshoe Lake back channel, there will be no tag saying "Trout courtesy of the supporters of the GLT"—but it will be true none the less.