Family Walk: Say Cheese, Go Wild! **Filled**
**This outing has been filled** How do biologists study wildlife from afar yet get so up-close? Get a unique hands-on look into how we "capture" wildlife using remote trail cameras. Go for a guided walk, put cameras along the trail, see what critters we film, and take a photo home with you. Join Greenbelt Land Trust and Greenbelt Volunteer Naturalist and OSU biologist, Jonny Armstrong, for this free, kid-friendly event at the Bald Hill Farm conservation area. Light snacks provided. Space is limited, so RSVP today!
*This event is brought to you by Greenbelt Land Trust and Hike it Baby.
Registration
For more information or to RSVP, email Jessica or call the GLT office at 541.752.9609. Location and additional details will be provided upon registering.
Kids' Nature Snorkel ***Canceled***
***This event has been canceled. We apologize for any inconvenience. We hope you can join us at a future event.
Let's get outside and explore nature through stories, the imagination, and play! Together we'll snorkel through Bald Hill Farm's trails and learn about the wildlife and plants we see along the way. You'll also get a unique hands-on look into how we "capture" wildlife using remote cameras. Join Greenbelt Land Trust, Oregon State University wildlife biologist, Jonny Armstrong, and Hike it Baby for this free and family-friendly nature walk. Although kids of all ages are welcome, this walk is ideal for ages 3 and up. Light snacks provided.
Fall Harvest Family Day
Let's celebrate the fall harvest at Bald Hill Farm! Greenbelt Land Trust and the Corvallis Environmental Center invite you to enjoy the beautiful scenery and a host of fun fall activities at Bald Hill Farm.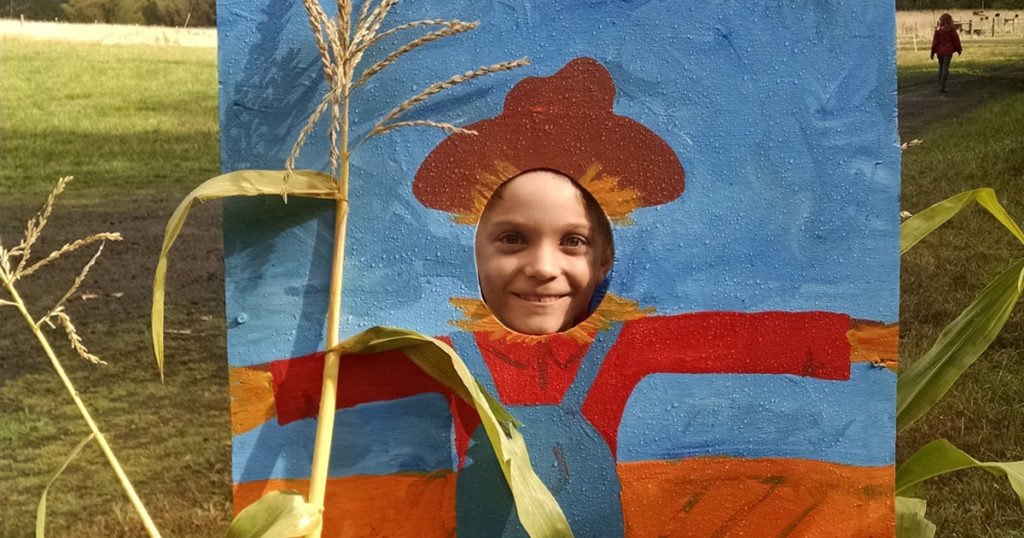 Come on out for apple pressing and apple cider tasting, guided nature walks for kids of all ages, apple cider donuts, pumpkin decorating, face painting, outdoor games, and more!
We are excited to have When Picks Fly play live, old-time string band music!
This event is free, open to the public, and great for the whole family, so bring your kids and a picnic lunch to enjoy at the Farm.
REGISTRATION
Please RSVP by emailing rebecca@greenbeltlandtrust.org or call the GLT office at (541) 752.9609.
TRANSPORTATION
** Walking/biking map to the event can be found below.
WALK: Park at Benton County Fairgrounds, Oak Creek Dr. parking lot, or Reservoir Rd. parking lot, and walk to the Bald Hill Farm farmhouse.
BIKE: Bicycle in- it's a beautiful ride to the Farm!
DRIVE: Free but limited parking is available. Walking and biking are encouraged. Follow event signs along 10 m.p.h farm road. Farm road entrance near: 6780 NW Oak Creek Dr., Corvallis, OR 97330
FOOD/DRINK: Complimentary fresh-pressed apple cider, healthy snacks, and apple cider donuts available. Feel free to bring a picnic lunch and a lawn chair or blanket to sit on.
Stay for the whole event or for just a while. We look forward to seeing you at the 2nd annual Fall Harvest Family Day!
THANK YOU, SUPPORTERS!:
Silvernail Farm and Orchard (Kings Valley), The Melon Shack (Corvallis), Davis Family Farm (Corvallis), NH-HAY, INC. (Tangent)
*Please keep your furry friends safely at home – pets, other than assistance animals, are not permitted in this part of the Conservation Area.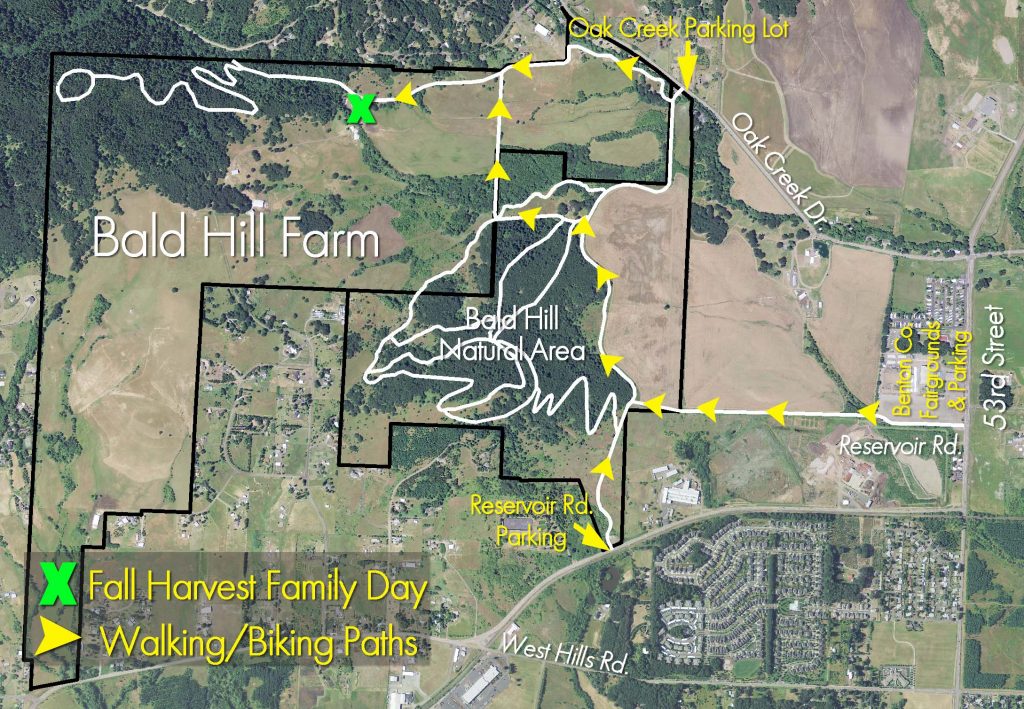 Walk With a Naturalist
Join Greenbelt Naturalist, Don Boucher, for a morning nature walk at Bald Hill Farm. Discover the fascinating flora and fauna along the trails, including mid-summer wildflowers, butterflies, birds, and reptiles. Get up-close and personal with critters along the trail with provided hand lenses. We'll also keep an eye out for threatened and endangered species that this conservation area helps to protect.  This is a free, family-friendly walk. No RSVP is necessary.
Leader:
Don Boucher is a renowned and passionate Naturalist and dedicated Greenbelt Land Trust volunteer. He, along with Lisa Millbank, promote the understanding and appreciation of local nature through their Neighborhood Naturalist program.
Location & Directions:
Meet Don at/return to the trailhead kiosk/bridge at the NW Oak Creek Drive parking lot of the Bald Hill Natural Area. You can click the map HERE for trailhead location and directions (http://therighttrail.org/trails/oak-creek-trail).
Parking:
The parking lot is small, so please arrive a few minutes early to find a spot. Walking or biking encouraged!
What to bring/wear:
Sturdy, close-toed shoes
Hat and layers according to the weather
Water, snacks
Camera and binoculars (optional, but recommended)
For questions or more information, please email Rebecca or call the Greenbelt office at (541) 752.9609
*Please note: Because we love our furry friends, we want to ensure that they (and our human friends) stay safe, so we request that you please do not bring pets on this walk.