Moths vs Bats: Nocturnal Wonders **FILLED**
The Wonders of the Night! At this evening presentation and walk at Bald Hill Farm, you will gain a hands-on glimpse into the amazing diversity of moths and bats found in our own backyards after dark. The shadow of dark offers us a good time to attract moths to light-stations, and use bat detectors to listen for bats!
There's much more to these night fliers than meets the eye. Besides being extraordinarily diverse in color, shape, and size, moths are also important because they pollinate plants and feed birds, bats, and even people around the world! And bats are just the coolest – more than 1,390 species of bats around the world are playing ecological roles that are vital to the health of natural ecosystems and human economies by consuming insects, pollinating valuable plants, and dispersing seeds.
Lending his expertise on all things 'moths' is Dana Ross, an entomologist in Corvallis who serves as a volunteer Curatorial Associate with the Oregon State Arthropod Collection. He has pursued butterflies and moths throughout Oregon since the early 1980s.
And representing the bat world is Stuart Perlmeter, who has worked with bats for nearly 30 years. During that time, Stuart has also run successful field biology programs for students from the Springfield School District in bat and watershed science research, as well as founding The WELL Project (Water and Energy Learning Lab), a science program that supports hands-on science instruction in the areas of water and energy science.
This event is full. Please email blythe@greenbeltlandtrust.org to be added to the waitlist.
41M Gallons Restored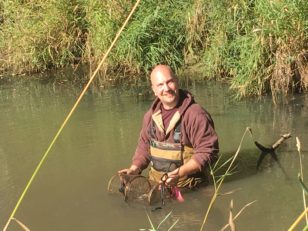 Greenbelt is partnering with Intel, Oregon's largest employer, to restore floodplains along the Willamette River. This project is expected to restore 41 million gallons of water per year within the Willamette system, by reconnecting the exchange of water between the Willamette River and a historic oxbow of the river during the critical winter rearing period for native fish.
This connection will provide habitat for critical fish and wildlife species. Intel's global initiative launched in 2017, to restore 100% of its water use by 2025, is led by partnerships with local nonprofits like Greenbelt to restore local watersheds throughout the world. We've planted nearly 100,000 trees over the last five years at Horseshoe Lake—Intel's investment is the missing link to our restoration vision for this dynamic site.
Oregon White Oaks – A Naturalist Walk **FILLED**
This mix of Oregon White Oak woodland, meadows and riparian forest is a haven for wildlife and native plants. Join local naturalists Lisa Millbank and Don Boucher on an exploration of this hidden Willamette Valley gem.  We'll have the chance to see a diversity of wildlife such as Blacktail Deer, Western Gray Squirrels, woodpeckers (including Acorn Woodpeckers and many other common species), White-breasted Nuthatches, Hutton's Vireo, Red-shouldered and Red-tailed Hawks, American Kestrel, Northern Harrier and more! We may also spot signs of Bobcat, Coyote and Gray Fox!
We hope you can join us for this inspiring walk through Owen's Farm.
**Filled**
Family Walk: Say Cheese, Go Wild! **Filled**
**This outing has been filled** How do biologists study wildlife from afar yet get so up-close? Get a unique hands-on look into how we "capture" wildlife using remote trail cameras. Go for a guided walk, put cameras along the trail, see what critters we film, and take a photo home with you. Join Greenbelt Land Trust and Greenbelt Volunteer Naturalist and OSU biologist, Jonny Armstrong, for this free, kid-friendly event at the Bald Hill Farm conservation area. Light snacks provided. Space is limited, so RSVP today!
*This event is brought to you by Greenbelt Land Trust and Hike it Baby.
Registration
For more information or to RSVP, email Jessica or call the GLT office at 541.752.9609. Location and additional details will be provided upon registering.
A Bird's Eye View: Kids Bird Walk
Let's celebrate World Migratory Bird Day! Join Greenbelt Land Trust, Chintimini Wildlife Center, and Environment for the Americas for a special kid-friendly bird walk at Bald Hill Farm conservation area. We'll identify birds, tour a wildlife habitat restoration site created by local 3rd-graders, and learn about the Willamette-Laja partnership that links bird conservation between Oregon and Mexico.  Hands-on activities for kids include stewarding plants for bird habitat and making a bird-themed craft to take home. There will also be special appearances by LIVE Chintimini bird ambassadors! Se habla español.
Registration
For more information or to RSVP for this free, family-friendly event, email Rebecca. Space is limited. Additional details and directions will be provided upon registering.
Natural Areas Celebration Week
This event is brought to you by Greenbelt Land Trust, Chintimini Wildlife Center, Hike it Baby, and Environment for the Americas. Project partners are Marys River Watershed Council and the Institute for Applied Ecology. This event is part of Natural Areas Celebration Week.
Natural Areas Celebration Week has something for everyone!  Natural resource partners throughout the region join together during this week to highlight their projects and to celebrate the incredible resources in our backyard here in the mid-Valley. From walks to talks, open houses, local food and drinks, and more, you are sure to have a great time!