30th Annual Meeting
February 28, 2019 @ 6:00 pm

-

8:00 pm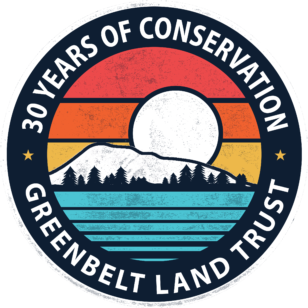 30 Years of Conservation and Community! We have a lot to celebrate with you and because of you! All members, volunteers, and friends—seasoned and new—are invited to join Greenbelt on February 28th as we celebrate this momentous anniversary and envision what the next 30 years will bring. We're stepping into a new era of the land trust and thinking deeply about our path forward.
How might we close the missing links of trail corridors locally?
How can we deepen our impact to improve water health for communities around us?
How are we making meaningful connections with everyone in our community?
Come, be inspired, and lend your voice to the next chapter of Greenbelt Land Trust!
Enjoy local food, music by guitarist Adam Scramstad, and connect with other passionate people who care about the future of our Valley. Whether you are a long-time supporter of Greenbelt or inspired by our work, all are welcome. We look forward to spending an enriching evening with you. Together, we will continue the significant work of conserving our lands and waters for people and wildlife!
Location: First Presbyterian Church's Dennis Hall, Corvallis, OR