Renewed Accreditation
Did you know that in 2008 Greenbelt Land Trust became one of the first accredited land trusts in the country?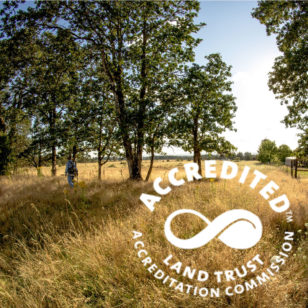 Greenbelt is in the process of undergoing re-accreditation, a rigorous independent review process that ensures Greenbelt's fiscal accountability, organizational leadership, and sound transactions. We are proud to be a leading accredited land trust and to demonstrate our promise of permanence to you, our supporters.
The Land Trust Accreditation Commission invites public input and accepts signed, written comments on pending applications. We ask you, our supporters, to consider providing feedback on our programs and operations as they relate to compliance with national land trust standards—public comments can be submitted by email to info@landtrustaccreditation.org or mailed to the Land Trust Accreditation Commission, Attn: Public Comments: 36 Phila Street, Suite 2, Saratoga Springs, NY 12866, by August 1st, 2019.
Learn more about Land Trust accreditation here: www.landtrustaccreditation.org