Passing the torch
Recently, Greenbelt's Stewardship Program had a passing of the torch. Longtime Director and amazing leader, Jeff Baker, stepped down from the Director position into a part-time, non-management role and Matt Blakeley-Smith took the helm as Greenbelt's second-ever Stewardship Director. An organic transition that supports exciting next chapters for Jeff, Matt and Greenbelt Land Trust. In these first few months, Jeff and the whole Greenbelt team will support Matt's transition into the Director role. We've been in such good hands and will continue to be so.
After 11 years of leading Greenbelt's innovative and impactful stewardship efforts, Jeff Baker is looking forward to a change that will allow him to spend more time with his children while they are young. "In the last decade, Jeff has nearly single-handedly built Greenbelt's Stewardship Program into what it is today. Under his expert guidance, Greenbelt has successfully brought in over $4 Million in permanent stewardship funds for our properties, launched a region-wide restoration program, and established trusted partners across the Valley. We are thrilled that Jeff is staying with Greenbelt in this new role, continuing to lend his expertise to our growing team," said Jessica McDonald, Greenbelt's Associate Director.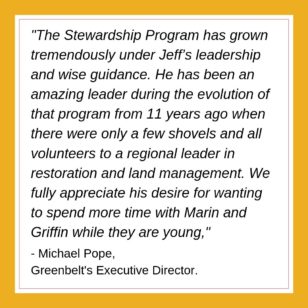 This passing of the torch could not be better timed. "Fortunately, Greenbelt already had a great candidate in Matt Blakeley-Smith to take on the role of Stewardship Director. He's shown himself to be passionate and innovative about caring for our lands—securing funding and restoring 1,000 acres of wildlife habitat and maintaining many more acres. He'll bring many good ideas to the stewardship program. As a Stewardship Coordinator I look forward to working with our conservation easement owners and with our stewardship staff to make the program the best that it can be," said Jeff Baker.
Matt Blakeley-Smith has been with Greenbelt for nearly seven years and brings to his work vision, passion, and commitment for protecting and restoring nature. Matt's journey began studying biology in college because he was fascinated by microscopic invertebrates with scythe-like appendages, predatory plants, and redwood cathedrals. It didn't occur to him—at that time—that biology jobs would be scarce once he graduated. "I feel so fortunate to work for Greenbelt doing what I love, " said Matt Blakeley-Smith.
When it comes to stories of conservation, the media often reports on stories that feel otherworldly, either by distance or direct experience. "The Willamette Valley has its own majesty but we often take those things closest to us for granted. I want to highlight the exquisite diversity that surrounds us, but that may be just out of sight for many people. With the development pressure associated with Oregon's growing popularity, it is essential to me to preserve what we can as quickly as possible," Blakeley-Smith said.
When looking ahead at potential challenges place-based land trusts face, Matt thinks it will be important to also engage communities outside of Benton County, but within Greenbelt's service area to develop our work in ways that are unique to each community, while sharing our core mission of protecting land and connecting people to nature.
"Willamette Valley ecosystems systems are damaged to the point that we can't just let 'nature take its course' since too many pieces of the puzzle have been lost. Our goal is to actively manage the land in order to rebuild key relationships between species, with the understanding that there is no going back to pristine wilderness. Land trusts also have time on our side, so we can continue to adapt and restore the land for decades to come," said Blakeley-Smith.
What drives Matt is the deep desire to see meadows filled with Camas and Shooting Stars where butterflies flutter in abundance and the Meadowlarks sing. He wants farm fields reclaimed by Greenbelt and that frame the Willamette River to develop into forests that can shelter a herd of elk and all other native creatures. And, he wants everyone to have access to the outdoors and abundant opportunities to enjoy nature in their own way.
"It is truly humbling to step back and think about the massive restoration initiatives that Matt has taken on with Greenbelt, including the complex planning to transform entire landscapes into functional floodplain forests and native prairies, building relationships with landowners and funders, and leading outreach programs that inspire others to become land stewards. There are few people as knowledgeable and dedicated to ecology as Matt, and we are all just fortunate to learn from him and have him step into this role as Stewardship Director," McDonald said.
Greenbelt Land Trust offers deep gratitude to Jeff Baker for blazing the trail and a joyful welcome to Matt, stepping in to take the lead.