Symphony on the Land
The 8th Annual Symphony on the Land awaits you at Bald Hill Farm! Event sponsors Greenbelt Land Trust and the Corvallis-OSU Symphony invite you to come and enjoy a beautiful evening outdoors, surrounded by friends and family.
This year's innovative program features a diverse range of talented ensembles, culminating in a collective performance featuring all three groups, including:
Terra Nova Woodwind Trio
Windswept Brass Quintet
Grupo Masato Band (dance, dance, dance!)
TICKETS (Online HERE)
$20 for General Public
$15 Greenbelt Land Trust Members and Student Rate
16 and under – Free!
Tickets are available to purchase online (Click Here) or for sale at the event. Cash, check or credit cards will all be accepted at the event.
TRANSPORTATION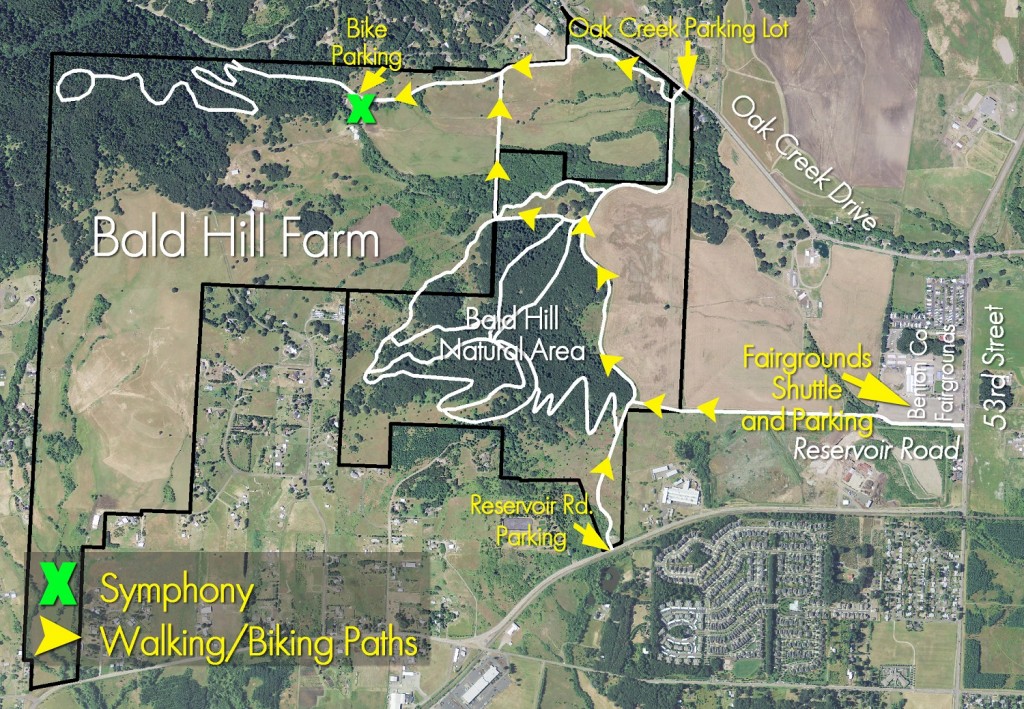 ** Walking/biking map to venue can be found HERE
WALK IN: Park at Fairgrounds, Oak Creek Drive, or Reservoir Rd.
SHUTTLE: Park at Fairgrounds (on 53rd St. near the large electric Fairgrounds sign)- Shuttles will leave Fairgrounds (starting at 4.00pm) approximately every 20 minutes to the Symphony site at Bald Hill Farm. The last shuttle will leave for the Farm at 5.15 pm.
BICYCLE IN: Bicycle in! Free bicycle valet will be available on-site
SOLAR POWER: Provided thanks to OSU's Solar Trailer team.
FOOD/WINE/BEER
Please feel free to bring a picnic and your own beverage OR purchase delicious wine, beer, and food. List of beverage and food vendors will be posted soon!
VOLUNTEERS
Volunteer for the Symphony on the Land and receive two complimentary tickets to this year's concert! Check back for a list of volunteer shifts needed, or email blythe@greenbeltlandtrust.org to sign up as a volunteer!
Remember to bring a lawn chair, or blanket to sit on.
Dogs are not allowed.
Questions? Contact us at 541.752.9609.
Tree and Shrub ID: Walk and Workshop **Wait List**
**This walk is full. Please send an email to blythe@greenbeltlandtrust.org to be added to the waitlist**
Lead by Ed Jensen, Professor Emeritus, OSU College of Forestry
The first hour of this 2-hour workshop will be conducted inside Greenbelt's Bald Hill farm house and will improve your ability to identify trees and shrubs in general.  In it, you will hone your knowledge of key plant characteristics and learn to use the identification key in Shrubs to Know in Pacific Northwest Forests to identify unknown shrubs.  The second hour will consist of a walking tour on the gentle trails around Bald Hill Farm, during which you will apply the skills you learned in the first hour.
If you already own a copy of Shrubs to Know in Pacific Northwest Forests (OSU Extension Circular 1640) please bring it. If not, we will have copies for purchase (proceeds going to Greenbelt), and will have several copies to loan.
Ed Jensen is an award-winning educator and author who spent nearly 40 years teaching OSU students (and others) about the identification and ecology of the trees and shrubs that comprise Northwest forests.
Volunteer Naturalist Orientation **FILLED**
It's the 7th year of Greenbelt Land Trust's Volunteer Naturalist program! Are you interested in being a Volunteer Naturalist? If you are a returning Naturalist or have always wanted to be one, now is your chance to be part of this enthusiastic and fun group for the 2019 season.
DO YOU…
Love exploring the outdoors in Corvallis?
Enjoy sharing your passion for nature with the public?
Want to help your community better appreciate the natural history of Bald Hill Farm and the mission of Greenbelt Land Trust?
If you said 'YES!', you could be a great Volunteer Naturalist. More info about the Volunteer Naturalist program HERE.
VOLUNTEER NATURALIST ORIENTATION
Those interested in serving as a Volunteer Naturalist for the 2019 season are asked to attend this Orientation. Participants will learn the nuts and bolts of being a Volunteer Naturalist and receive training on the natural and cultural history of Bald Hill Farm, the work of Greenbelt Land Trust, interpretation skills and more. Both classroom and field training will be provided. Previous experience is not necessary.
GOOD TO KNOW:
Many participants volunteer as couples or families. Youth under 18 can participate when accompanied by a parent or legal guardian.
Are you a Master Naturalist? Ask your instructor how to earn volunteer hours for your program.
RSVP FOR APRIL 13TH VOLUNTEER NATURALIST ORIENTATION:
Family Walk: Say Cheese, Go Wild! **Filled**
**This outing has been filled** How do biologists study wildlife from afar yet get so up-close? Get a unique hands-on look into how we "capture" wildlife using remote trail cameras. Go for a guided walk, put cameras along the trail, see what critters we film, and take a photo home with you. Join Greenbelt Land Trust and Greenbelt Volunteer Naturalist and OSU biologist, Jonny Armstrong, for this free, kid-friendly event at the Bald Hill Farm conservation area. Light snacks provided. Space is limited, so RSVP today!
*This event is brought to you by Greenbelt Land Trust and Hike it Baby.
Registration
For more information or to RSVP, email Jessica or call the GLT office at 541.752.9609. Location and additional details will be provided upon registering.
New Year's Resolution Ramble
Feeling energized for 2019? Or maybe you want to burn off those holiday cookies? Jump start your new year with a calorie-burning invigorating hike, stretching, and guilt-free New Year's visioning.  Join Greenbelt Land Trust and Live Well Studio instructor, Jocelyn Darshana, for a guided walk at the beautiful Bald Hill Farm conservation area. Enjoy complimentary herbal teas and a healthy snack. New Greenbelt members welcome! No resolutions required.
Registration
For more information or to RSVP, email Rebecca or call the GLT office at 541.752.9609. Location and additional details will be provided upon registering.