Little Willamette Bird Walk **FULL – Waitlist Available**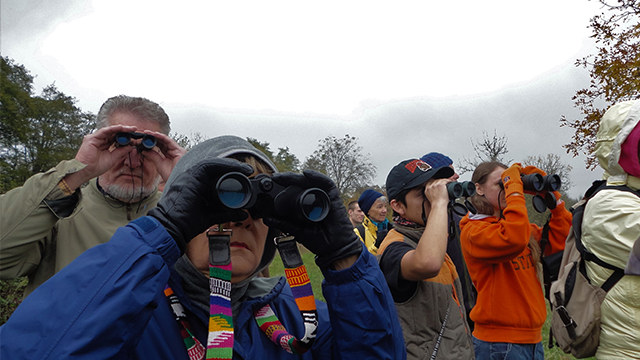 This event is full, please contact Matt Benotsch for the waitlist, mbenotsch@greenbeltlandtrust.org
Join Greenbelt Land Trust and our 2020 Volunteer of the Year, Paul Adamus, for a bird walk and tour of Little Willamette, a 199 acre property protected with a conservation easement in 2009, located in the floodplain of the Willamette River between Corvallis and Albany in Linn County.
Ten years of floodplain forest and prairie restoration by Greenbelt at Little Willamette has resulted in a more diverse and productive landscape for birds and other wildlife. Paul has been monitoring birds at Little Willamette and our other Willamette River floodplain restoration sites to document their numbers and use of different habitats and will share his expertise and observations as we bird the property.
No birding experience or bird knowledge necessary! We will tour at a leisurely pace, covering a few miles over a few hours, including over some possibly soggy and uneven terrain. Dress for the weather, and bring snacks and water.
Group size is limited and masks are required, but may not need to be worn the whole time as we spread out on the property.
This event is FULL, to be placed on the waitlist please contact Outreach Manager Matt Benotsch, mbenotsch@greenbeltlandtrust.org
Inclusive Birding with Gladys Ruiz
Please register for this free event here: http://bit.ly/ruizevent
Join Gladys Ruiz, Portland-based bird-lover and equity and inclusion-focused youth programs consultant, in this free virtual workshop where she will discuss how she became a birder, her work nurturing connection to nature in youth of color, and the importance of harnessing what you love. She'll share how to get started with birding yourself and talk about ways to cultivate an inclusive community through nature.
The Corvallis-Benton County Public Library will also briefly demonstrate how to get involved in the Great Backyard Bird Count (February 12-15) – a community science project and a fun way to exercise the birding skills you learn in this workshop.
All ages welcome.
Sponsored by the Corvallis-Benton County Public Library, Corvallis Audubon Society, and Greenbelt Land Trust
About Gladys Ruiz: Gladys is an inspired leader who has honed her love of nature and her passion for mentoring young people into a personal mission of nurturing connection to nature in youth of color. Gladys took flight from New York City through nature, attending the nation's first environmentally focused high school. As an adolescent, Gladys participated in an internship where she learned that access to opportunity can make a difference in igniting a career connected to the natural world. This passion led her to working as an Urban Park Ranger in New York City's Central Park, where she worked with youth of color helping to inspire a new generation of conservationist through ecological research.
Moving to the West Coast, she continued working with communities of color, promoting healthy living and environmental education at the Community Cycling Center and Forest Park Conservancy. Joining the Audubon Society of Portland in 2011, Gladys continued her dedication to building diversity, equity and inclusion in the environmental community, first by connecting children of color to meaningful and relevant experiences in nature through Audubon's Community-based Camps and then through the creation of Portland Audubon's TALON program, helping connect young adults of color to environmental careers.  Since the fall of 2016, Gladys spends her time working for Center for Diversity and the Environment as a Program Associate and balancing her consulting business, Gladys Ruiz Consulting LLC., a consulting business focused on culturally relevant program design and youth workforce development that's responsive to community needs and leads with a racial equity lens.
Coloring the Conservation Conversation with J. Drew Lanham
This free event will be broadcast live on Zoom. Please register here: http://bit.ly/lanhamevent
Writer, birder, naturalist, and hunter-conservationist Drew Lanham will imagine the world anew as it reconfigures in the midst of the pandemic. He will share his highest vision of environmental and social justice, the crucial steps we can take as individuals and communities to bring that vision to life, and stories of how this new paradigm is already taking shape.
About Drew Lanham: J. Drew Lanham is the author of the award-winning memoir The Home Place: Memoirs of a Colored Man's Love Affair with Nature. He has also published essays and poetry in publications including Orion, Audubon, Flycatcher, and Wilderness, as well as several anthologies. He is an Alumni Distinguished Professor of Wildlife Ecology and Master Teacher at Clemson University.
Sponsored by the Corvallis-Benton County Public Library, Spring Creek Project, Corvallis Audubon Society, Greenbelt Land Trust, and Corvallis Sustainability Coalition.
Backyard Birding
"I would recommend bird watching to other kids who are also out of school because it is fun and it can help you calm down during a stressful time like this."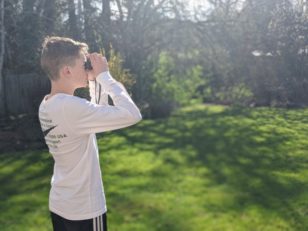 We're all feeling the stress of uncertainty as we get through the first days of what may be an extended period of social isolation and staying home.
Parents are scrambling for ways to teach, inspire, or just deal with their kids with the schools closed. Everyone's at home, all day.
For Claire Fiegener, Greenbelt's Conservation Director, birds were part of the solution, and a new hobby for her kids.
"After realizing that my husband and I would be working from home while our twin 13-year-old boys would also be home from school, and the initial panic started to wear off, I knew we needed to provide some fun and structured activities they could do during the day.
Learning more about our local "backyard" birds appeared to spark some interest, so we brought out our binoculars and bird identification books, printed out local common bird lists, and downloaded bird ID apps on their iPads.  They set up notebooks to document the species they were viewing and general information about the time and location (in the yard) they were conducting their viewing activities.
We present different challenges to them such as what time of the day do you tend to see more birds, how does the weather impact your viewing, and can you use the bird ID apps (that include bird song recordings) to identify any birds by their song, to try and keep them engaged and interested for as long as possible.
As my family is working to adjust to these uncertain and trying times, it does bring me joy to see my children discover a new 'hobby' as they call it, that sparks their interests."
What do they think about their new stay at home work, and how is it making their stay at home time better?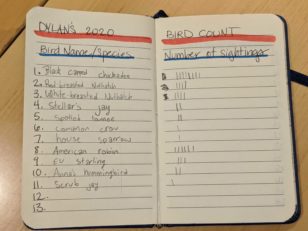 Let's hear from one of Corvallis's newest birders:
"Bird watching is fun because it is nice and peaceful outside, it is cool to look at pretty birds, and it gives you something to do to get some fresh air. I think it is peaceful outside because no one is talking and it is very quiet.
I find the birds to be pretty because they are very graceful and their calls sound cool. In addition, the bird's multi-colored feathers are very unique and nice to look at. I would recommend bird watching to other kids who are also out of school because it is fun and it can help you calm down during a stressful time like this.
I first did bird watching last week.  It is a very fun and cool hobby especially at a time like this while kids are home from school because of the Covid-19 virus, and if you haven't done it before, now is a great opportunity to try it!"
This is how kids get hooked on birds, they learn it at home.
Bird watching is an easy way to connect with nature and once you start it may be hard to stop. On your walk, in the car, or from the couch, birds can be seen or heard just about anywhere.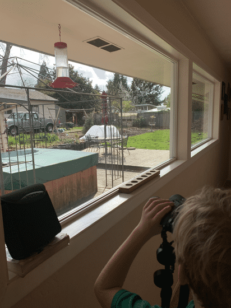 Backyard birders can contribute to citizen science, enter photo contests, and even play Fantasy Birding.
Feeling cooped up and want to get your family started in the world of birds?
Claire has some great tips up above, and here's an article from the Cornell Lab of Ornithology with resources for bringing birds into your life and making the next few weeks a little easier.
We'll be posting more ideas and resources for home science and nature learning on our social media channels over the next few weeks. Be safe, and bird on!
A Bird's Eye View: Kids Bird Walk
Let's celebrate World Migratory Bird Day! Join Greenbelt Land Trust, Chintimini Wildlife Center, and Environment for the Americas for a special kid-friendly bird walk at Bald Hill Farm conservation area. We'll identify birds, tour a wildlife habitat restoration site created by local 3rd-graders, and learn about the Willamette-Laja partnership that links bird conservation between Oregon and Mexico.  Hands-on activities for kids include stewarding plants for bird habitat and making a bird-themed craft to take home. There will also be special appearances by LIVE Chintimini bird ambassadors! Se habla español.
Registration
For more information or to RSVP for this free, family-friendly event, email Rebecca. Space is limited. Additional details and directions will be provided upon registering.
Natural Areas Celebration Week
This event is brought to you by Greenbelt Land Trust, Chintimini Wildlife Center, Hike it Baby, and Environment for the Americas. Project partners are Marys River Watershed Council and the Institute for Applied Ecology. This event is part of Natural Areas Celebration Week.
Natural Areas Celebration Week has something for everyone!  Natural resource partners throughout the region join together during this week to highlight their projects and to celebrate the incredible resources in our backyard here in the mid-Valley. From walks to talks, open houses, local food and drinks, and more, you are sure to have a great time!