Conservation Book Club Online – Nature's Best Hope
Join Greenbelt and Benton Soil and Water Conservation District as we will be reading and discussing the latest book from Douglas Tallamy, author of "Bringing Nature Home: How You Can Sustain Wildlife with Native Plants". "Nature's Best Hope" expands on the concepts of his previous work and shows how homeowners everywhere can turn their yards into conservation corridors that provide wildlife habitats.
Co-hosts Matt Benotsch, Greenbelt's Outreach Coordinator and a dedicated native plant gardener, and Heath Kierstead, BSWCD's Communications and Community Engagement Manager and coordinator of their upcoming native plant sales will lead the book discussion. We will also explore the basics of native landscaping in the Willamette Valley and discuss plant selection, maintenance and the wildlife you can attract and provide habitat for in your yard.
We will be meeting via Zoom.
Sign up here to save your spot and we will send you more details!
Monitoring Season
Throughout the year, our conservation and stewardship staff, volunteers, and partners from various agencies and organizations are busy monitoring birds, turtles, the success of restoration plantings, and the status of invasive weeds on the properties we protect. Monitoring is done on foot, with drones, and with remote cameras. In addition to monitoring these components of our conservation work, we also perform annual monitoring of each property as a whole. Every property we protect, whether we hold title to the land or a conservation easement, is visited and evaluated annually.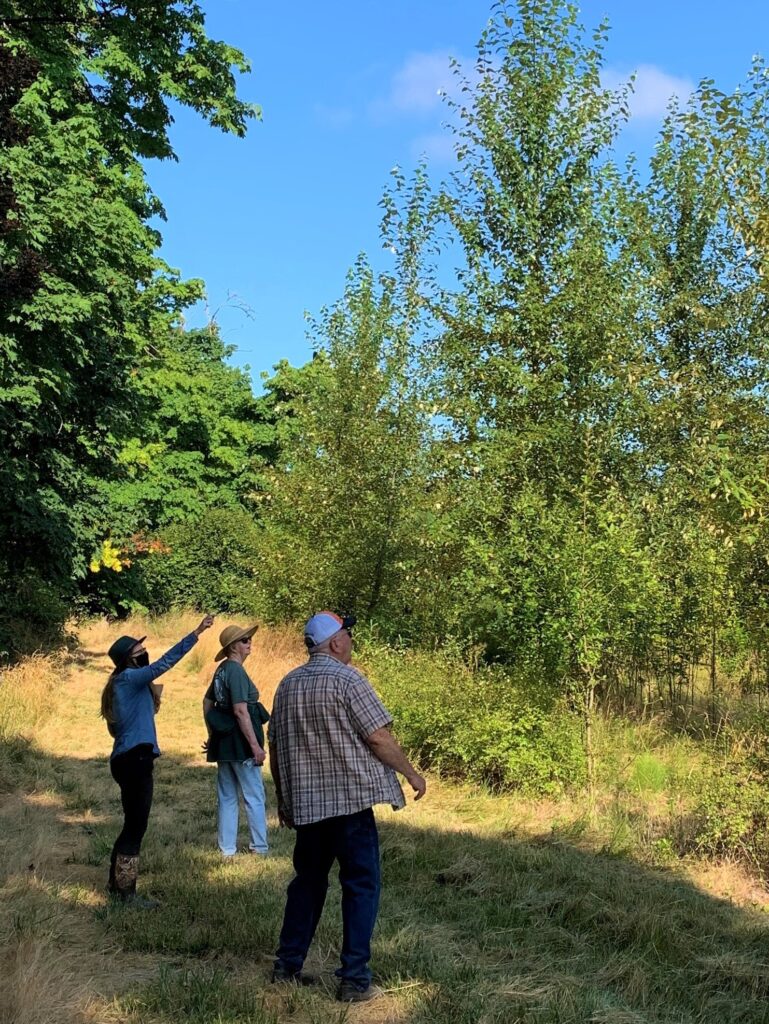 As land restoration work winds down at the end of the summer, autumn is traditionally the time for monitoring visits to our conservation easements. Conservation Coordinator Claire Fox is getting a jump on monitoring in 2020 and has started the yearly round of visiting the properties we protect with conservation easements, a task that she enjoys for the interaction with nature and with people.
"My favorite part of monitoring easements is getting outside with people on their land. I like to hear the stories about what makes this place special — whether it is a favorite tree, a neat habitat project, or a family memory of time spent outside. You really learn that for some people, caring for their land is a labor of love."
What is a Conservation Easement?
A conservation easement is a legal agreement between a land trust and a willing landowner that protects a property's conservation values forever. The landowner sells, or more commonly donates the easement to the land trust and relinquishes the right to take actions that would lower the ecological values of the land. Typical restrictions include commercial logging, mining, and large scale development.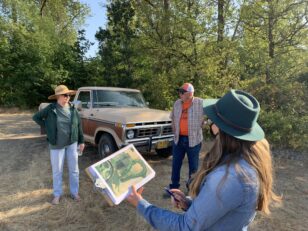 Conservation easements are entered into with landowners who want to see their properties remain unchanged in the future. Conservation easements must provide public benefits such as water quality, agricultural and scenic values, or wildlife habitat. Economic benefits to the landowner may be realized through tax benefits and estate planning. Floodplains, wetlands, riparian areas, healthy soil and productive farmland, big trees and prairie wildflowers – conservation easements can protect it all!
A conservation easement transfers with ownership, ensuring that the holder of the easement can continue to protect and maintain the important ecological values. Greenbelt holds 27 conservation easements protecting farms, forests, prairie, and wetlands across the Mid-Willamette Valley. Part of our job in holding a conservation easement is to make sure that the terms of the easement are being upheld and that the conservation values of the property continue to be protected. We accomplish this through annual monitoring.
Monitoring Season
Every year we pay a visit to each property to monitor the easement. We have a conversation with the landowner to talk about their land management goals, address any concerns that they have or we have, and share updates. Then we walk the boundaries of the property and visit the major features to monitor habitat dynamics and identify any threats or changes.
Noteworthy changes are documented with notes and photographs in a monitoring report. We keep all of this information in a permanent file to document the condition of the property over time.
Protected Forever
The collaborative partnerships we have with our easement landowners allow us to protect much more than just the lands we could purchase outright. Private landowners who want to see the ecological values of their land remain intact have protected nearly 9 million acres in the U.S. through conservation easements.
Greenbelt Land Trust has been monitoring some of our easements for over 25 years!  Properties have passed on to new landowners over the years but the ecological values and protections are left intact. We are committed to protecting the natural values and public benefits of these special places in perpetuity.
Conservation Book Club Online – H is for Hawk
BOOK CLUB MOVES ONLINE
The most recent meeting of the Greenbelt Conservation Book Club was postponed a few times, so thank you for your patience. We are bringing it back on May 21st, and moving it online!
We will be discussing "H is for Hawk" a memoir from Helen Macdonald, who turns to the training of a young Goshawk in the wake of her father's death. We will set up the online platform, you read the book, and log in ready to discuss it.
Sign up here to save your spot and we will send you more details.
Fall Conservation Book Club Gathering **Postponed to January 2020**
This book club has been postponed to Wednesday, January 22nd, 2020. Register below!
Join us in reading and talking about The Future of Nature by Barry Lopez for our next Conservation Book Club! We hope you will join us in reading this important book and sharing ideas, concerns, insights, and wonders during our gathering on Wednesday, January 222, 2020 (originally scheduled for October 17th).
"The western mindset is arguably one of the greatest threats to the world's ecological balance. Corporatism and globalization are two of the obvious villains here, but what part does human nature play in the problem? Since its inception in 1982, Orion magazine has been a forum for looking beyond the effects of ecological crises to their root causes in human culture. Less an anthology than a vision statement, this timely collection challenges the division of human society from the natural world that has often characterized traditional environmentalism. Edited and introduced by Barry Lopez, The Future of Nature encompasses such topics as local economies, the social dynamics of activism, America's incarceration society, naturalism in higher education, developing nations, spiritual ecology, the military-industrial landscape, and the persistent tyranny of wilderness designation. Featuring the fine writing and insights for which Orion is famous, this book is required reading for anyone interested in a livable future for the planet."
The Greenbelt Conservation Book Club is an inclusive and informal group that meets quarterly to discuss a range of local to worldwide conservation issues. Our goal is to expand our learning and knowledge based on our readings and each other through thoughts, personal experiences, and good conversations. Participation is free and open to all. Books are chosen by group consensus and each quarterly gathering will take place voluntarily at a host's home. Claim your spot below!
Book Club Host:
We're looking for a host and a facilitator for this Conservation Book Club. Please email blythe@greenbeltlandtrust.org if you are interested in hosting or facilitating this wonderful, curious and engaged group.
Book Buying:
You can buy books anywhere, but Grass Roots provides a club discount upon mention of the Greenbelt Conservation Book Club. If you purchase through Amazon, please consider supporting Greenbelt at the same time through AmazonSmile!
35 acres forever!
Greenbelt is excited to announce that we recently closed on a new conservation easement — protecting 35 acres along the Muddy Creek — forever!
Strategically investing in protecting our water sources, habitats and working landscapes are the foundation of Greenbelt's conservation priorities.  The Muddy Creek corridor in Benton County running from Corvallis to Finley Refuge and up into its headwater near Alpine, has been a conservation priority for Greenbelt for nearly 20 years.  This region benefits from the fish, wildlife and plant diversity this corridor provides as well as the increased watershed function.
Muddy Creek is designated a priority corridor for restoration and conservation by Greenbelt and our partners including  U.S. Fish and Wildlife Service, Marys River Watershed Council, The Institute for Applied Ecology, Natural Resource Conservation Service, Oregon Department of Fish and Wildlife, and others.  Greenbelt and our partners are working to create a healthy and resilient region that will continue to support the diversity of species and naturally functioning water systems.
If you can imagine walking through a richly diverse forest dominated by Oregon white oak and Oregon ash trees, native shrubs and flowering understory plants you can understand how this area is a culturally significant area for the bands of Kalapuya Indians who traditionally inhabited this region.  Throughout the basin and specifically on this property, the oak structure found in the riparian habitat range from large open canopy trees with branches sweeping the ground to mixed-aged woodland trees with native understory. The understory includes native shrubs such as Indian plum and snowberry and forbs such as camas and fawn lilies. The riparian forest provides shade and bank stabilization to Muddy Creek along with nutrient cycling and acts as a dynamic interface between land and water. The forest supports an array of wildlife species including deer, cougar and bobcat, red-legged frogs and rough-skinned newts, and resident and migratory birds. A vibrant, resilient and functioning riparian habitat such as this, provides the necessary shade, cover and forage for the fish and wildlife benefits of healthy water and creek habitat.
Muddy Creek is a low gradient valley bottom stream that meanders through the riparian habitat of the property. Unique to the Valley bottom Muddy Creek remains unchannelized and has an active and functioning floodplain that inundates regularly. The stream, swales, and floodplain provide refuge, foraging, and migration habitats for Oregon chub, cutthroat trout, and other native fish.
Conserved lands, like these 35 acres, also help provide clean drinking water, improved floodwater storage capacity, increased groundwater recharge,  and enhanced ecosystem services for downstream communities.
Greenbelt's work to protect the land is strategic and intentional. We develop our conservation priorities around building a connected, healthy and resilient landscape that supports nature and people.