The Confluence Open House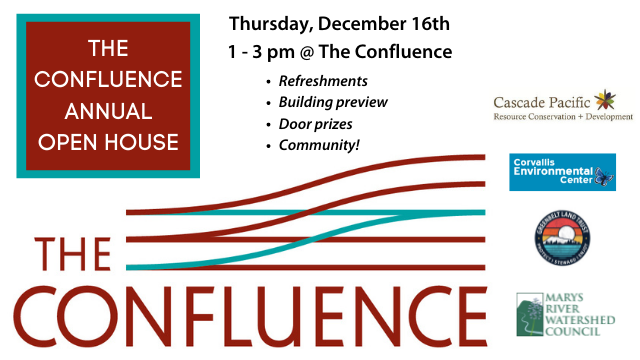 Join the partner organizations of The Confluence for our annual Open House, this year under the cover of our future home.  Thursday, December 16th, from 1-3 pm at The Confluence, on the 400 block of SW 2nd St., next to Robnett's Hardware.
Take refreshment, check out the progress on the building, and share some cheer with your conservation community!
We'll bring the door prizes, hot cider and cool soft drinks, and you bring yourself.
Covid-19 vaccination is required, please bring your card or a paper copy or digital image of your card. Masks will be required indoors when not eating or drinking, and space inside is limited to 50 people at a time. Hey, it's almost 2022 – we'll figure it out!
Join Corvallis Environmental Center, Cascade Pacific RC&D, Marys River Watershed Council and Greenbelt Land Trust to celebrate another year of joining forces for nature – see you at the Open House!
The Confluence Virtual Open House 2020
The Confluence partners invite you to join us for a virtual open house. We'll take a look back at 2020 and celebrate our work and community with an eye forward to 2021. Entertainment, fun and games, door prizes, and an update on The Confluence building and partnership. Please join us for a casual celebration!
FREE, Register Here:
https://us02web.zoom.us/meeting/register/tZckfuGspzMoGtULGJX3EwYR_FeufOW7h7B9
Benton Soil & Water Conservation District, Cascade Pacific RC&D, Corvallis Environmental Center, Greenbelt Land Trust, Institute for Applied Ecology, and Marys River Watershed Council will be moving to our new shared home in downtown Corvallis in 2021 (or 2022). Collaboration, conservation, and community at The Confluence!
Meet the Builder **FILLED**
**Event Filled** Join Greenbelt and builder Alan Ayres to tour the in-progress construction of The Confluence building. Learn about the use of sustainable, local materials and energy efficient design in the future home of Greenbelt and conservation partners in Downtown Corvallis.
Space will be limited and this event may be postponed if we can't meet state guidelines for gatherings and social distancing.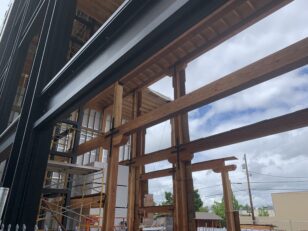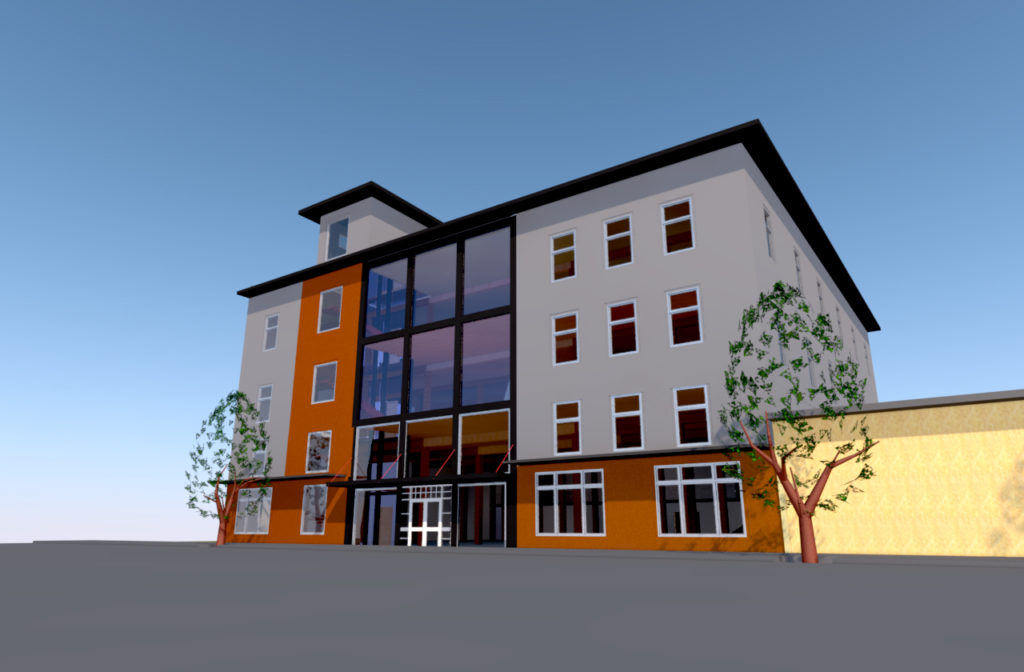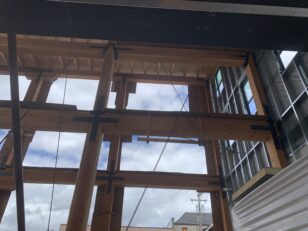 Stronger, Together
Nearly two years to the day after project partners held a kick-off community meeting at the VUE in 2016 to explore the idea of establishing a collaborative office building for environmental organizations, last week a groundbreaking took place in downtown Corvallis to celebrate the emergence of an innovative new building for just this purpose. Two years ago we asked the group of community leaders "What do you think about creating a building that would unite organizations working towards common goals for our region's land, water, and people? Is this a concept that has value to you? Do you see this being beneficial to us?" And what we heard that day, and honestly, that we have heard every day since is 'yes' resoundingly 'yes'.
Through a strong partnership with local builder Alan Ayres, five of the region's prominent environmental organizations are launching a new building that will house organizations committed to the vitality of our region's lands, waters and people, today and for generations to come. Since 2016 Greenbelt Land Trust, Benton Soil and Water Conservation District, Cascade Pacific Resource Conservation and Development, Corvallis Environmental Center, and the Institute for Applied Ecology have been working side by side on this project.
We started out in this project with all of the reasons that our individual organizations would benefit from co-locating. Gosh, it would be nice to share the cost of a printer lease with another group. Or, won't it be great (mind blowing, even!) to have meeting and conference rooms of our own, so we don't have to rent? What about IT services, couldn't those be share, too? Early on, these were the subjects of emails and meetings over coffee between our groups.
Reduced rental rates, shared printer leases, meeting rooms, IT, kitchen, server systems, reception, restrooms, teleconferencing systems. These are all a big part of how why this project launched – the cost benefits of co-locating.
And, yes – this is all important. But, we quickly realized that there is so much more. In this endeavor, this building to be, we have an opportunity to leave a legacy.
This building isn't just about reducing our individual rental costs or streamlining operations. Those are certainly two very important factors, but this project also offers us a platform to 'think big', and deepen the impact of our collective conservation programs. Each organization will retain its individual identity and mission, but we will also have an opportunity to explore collaborative programming and partnerships. There's also just something to be said about being able to walk down the hall and visit partner staff from another organization.
The building itself is designed and built by respected local builder Alan Ayres, whose work can be appreciated at several local businesses, including Sky High Brewing Company and Soft Star Shoes. With 75% of all construction materials sourced within a 30-mile radius of the site and a comprehensive sustainability design plan, the building will be a leader in energy efficiency. With an opening date projected for 2021, the partners will be using the next 3 years to continue to refine their partnership goals, pilot collaborative programs, and finalize interior design elements.
This innovative project represents several individual groups merging our creativity and intention together. Our building is also merely a stone's throw from Shawala Point, where the Marys and the Willamette River, our life-giving waters, flow together.
What better way to recognize our coming together through this effort than by gracing this partnership and building with the name 'The Confluence'?
The Confluence is a center for education and stewardship.
The Confluence is a gathering place for all.
The Confluence is a home for nature.
One day, not too far away, we will all be saying 'I'll see you at The Confluence'. And decades down the road, children will grow up knowing The Confluence as a place for nature and community. We are only at the beginning of this story, and it is a story that will be shaped with the help of our community.
We are stronger, together.
Special thanks to those who have funded this project: Oregon Watershed Enhancement Board through an 'Organizational Collaboration Grant', and the Land Trust Alliance through an 'Advancing Conservation Excellence Grant'!