Camera Trapping with Jonny Armstrong
Join Greenbelt and wildlife photographer Jonny Armstrong for a behind the scenes look at the art and science of high definition camera trapping.
Free and family friendly, register for this online presentation here:  https://us02web.zoom.us/meeting/register/tZUpdeipqz8iHtyaWR7ZIvcjstMCMZjIPa3I
Living with Lions
An increase in reported sightings of black bears and mountain lions this month on Corvallis area trails has people talking. The sightings in the Bald Hill to Fitton Green trails complex, and the Oregon State University research forests, have been from a distance. So far, no encounters as close as this one that a jogger experienced in 2019 have been reported in 2020, but any sighting of a large predator can instill both excitement and fear.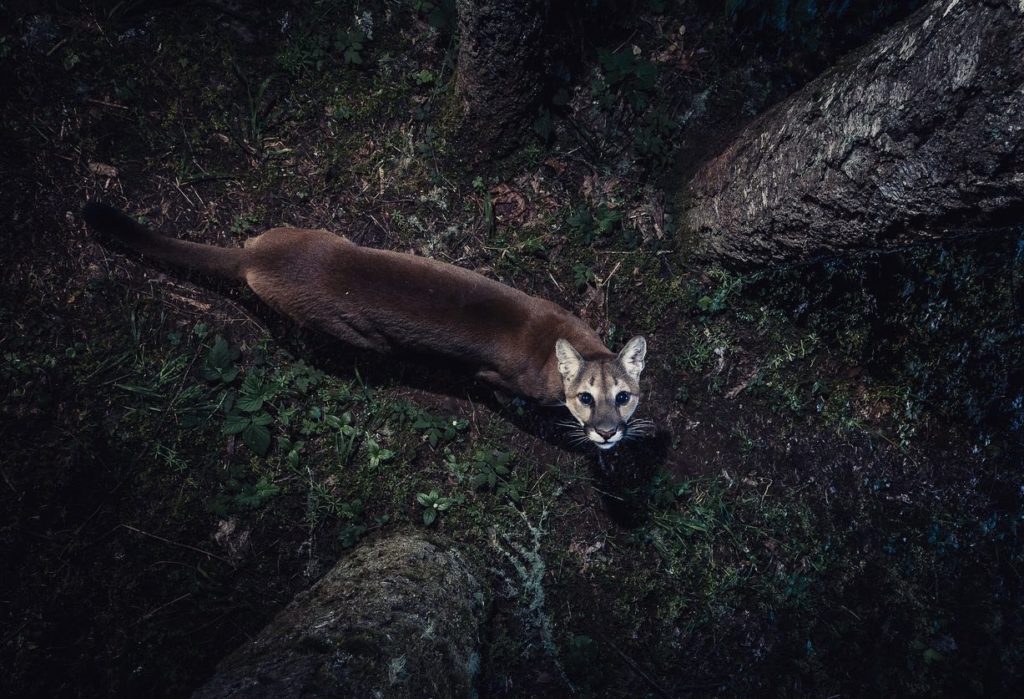 Access to nature and the ability to recreate in a beautiful forest is a big part of why we love living in Western Oregon and the Willamette Valley. Our quality of life is tied to the preservation of healthy wildlife habitat.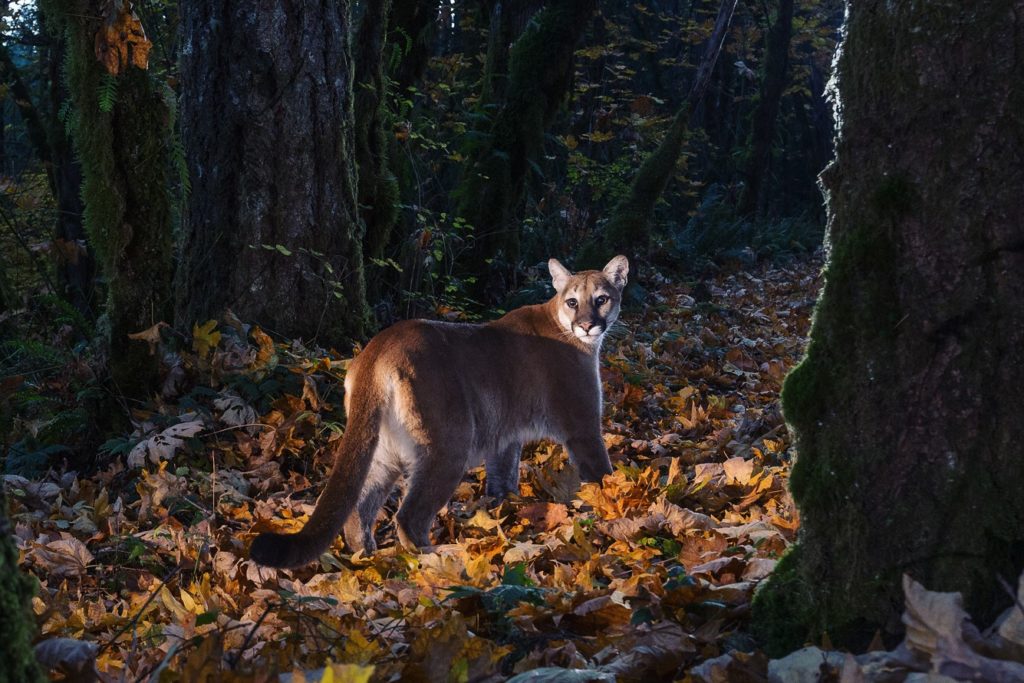 But no one wants to be confronted by a large predator on a trail, and these interactions often end in the animal's destruction, as a precaution for public safety.
How do we balance our desire to live and recreate in wildlife habitat with the protection of these fascinating animals and their need for space?
The Oregon Department of Fish and Wildlife estimates Oregon's mountain lion population at 6600. Because this count includes kittens that often do not reach maturity, some feel that it may be an over-estimate. The highest densities of the big cats are in the Blue Mountains in northeastern Oregon and in the southwest Cascades, but with plentiful deer and forest habitat in the Willamette Valley, we have a healthy population here as well.
The Willamette Valley is also home to most Oregonians, with 70% of the state's current population living here, and some projections showing an increase from 2.7 million to 3.9 million people by 2040.
With the population of the Willamette Valley projected to rise dramatically in the next two decades, our quality of life will depend even more on protecting land.
Protecting land is protecting more than just wildlife habitat.
Protecting land is protecting healthy rivers that provide drinking water and flood protection, healthy forests that store carbon and mitigate climate change, healthy soil on working farms and ranches, and access to the outdoors.
We can maintain what we love about living here and reduce conflicts with wildlife by protecting more land in the Willamette Valley.

For some people, seeing a black bear or mountain lion while on a trail is a once in a lifetime thrill. For others, it is frightening even from a safe distance.
With the number of people on popular trails, the possibility of even a distant sighting is remote. This study showed that the sound of human voices scared mountain lions so much they often abandoned a fresh kill. And that's a problem for a species already squeezed by development and habitat loss.
There are many things you can do to keep yourself and the wildlife you encounter safe. This helpful brochure from ODFW lists the ways we can live and recreate in cougar country safely, and what to do if you find yourself face to face. Check out the Mountain Lion Foundation for a series of online webinars about living in lion country.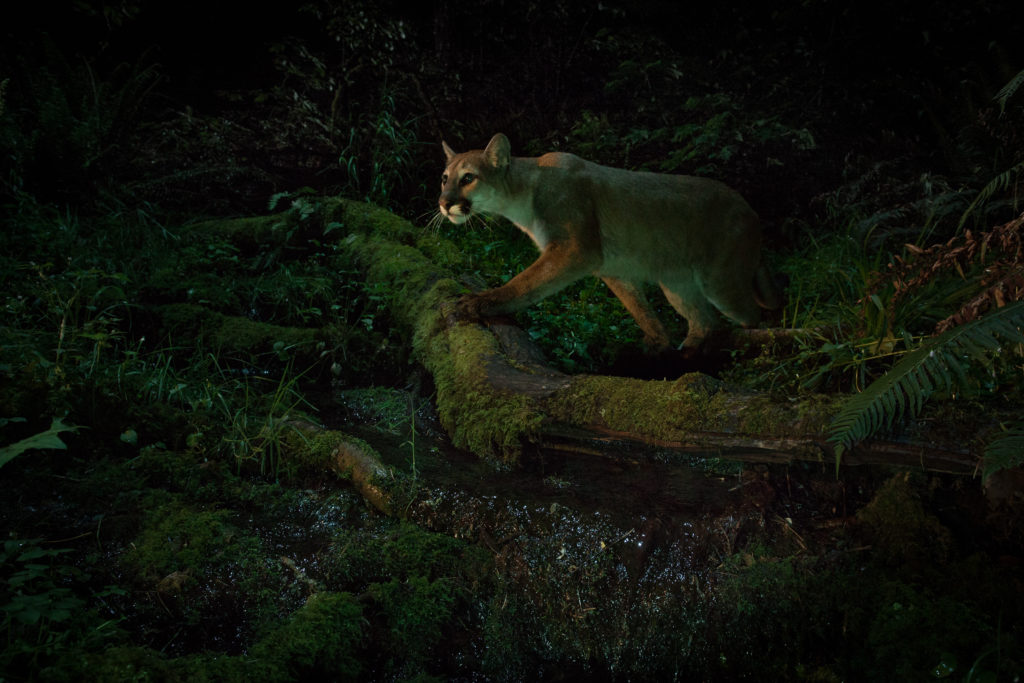 Based on recorded fatal attacks in the U.S. you are twice as likely to be attacked by a black bear than a mountain lion. Between 1900 and 2009 in North America there were 29 reported fatal mountain lion attacks, and 63 fatal black bear attacks. Most of the black bear attacks were by predatory male bears, not by a mother bear with cubs.
In 2010 alone, 33 people in the U.S. were killed by domestic dogs. You are far more likely to be attacked by your neighbor's pet than by a black bear or mountain lion.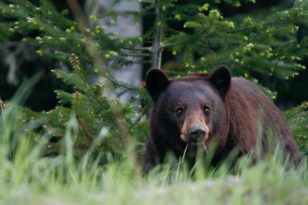 If you do encounter a black bear on a trail or near your home, there are many well-known strategies for staying safe.
One thing you may have heard is that you only have to be faster than someone else in your group. Not true of course, because you shouldn't run.
And please, take the National Park Service's advice – don't push your friends down either!
Egg Hunt
Naturalist Lisa Millbank has been working for Greenbelt this summer conducting nest surveys for Western pond turtles. These shy creatures of wetlands, sloughs, streams and ponds are on the decline and Greenbelt is among the many organizations in Oregon and Washington working to identify and restore the habitat they need to make a comeback. We asked Lisa to share some of her knowledge about the turtles and her experience searching for their nests.
Egg Hunt
Life's not easy for western pond turtle eggs and hatchlings.  Female turtles dig nests into sandy or gravelly soil, but turtle eggs are a feast for striped skunks, coyotes, raccoons and other native predators capable of sniffing out and digging up the nests.  When the quarter-sized hatchlings emerge from the surviving nests, they must evade more predators like otters, herons and mink.
Western pond turtles evolved alongside these native predators, but now they contend with an array of new problems.  Bullfrogs and bass are introduced predators that eat young turtles.  Western pond turtles must compete with introduced red-eared sliders from the southeastern US.  As they walk slowly over land to disperse to new places or to find nesting sites, they are killed by cars.  Agricultural practices can destroy nests or eliminate nesting habitat, and dense stands of invasive plants can smother the sunny, open places turtles need for nesting.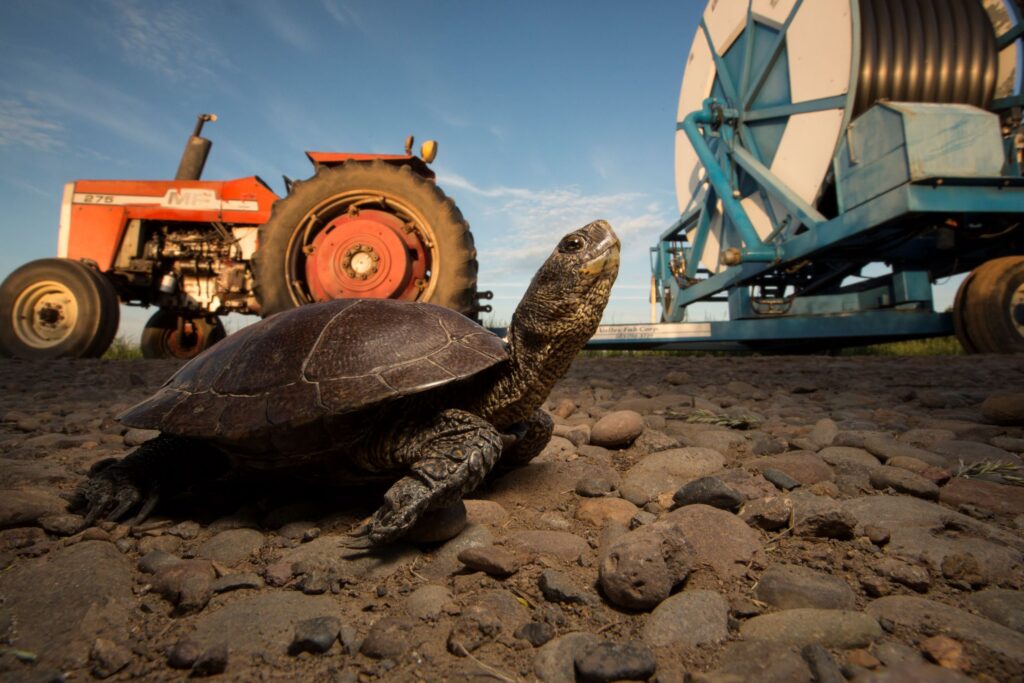 And as if those problems weren't enough, recently, a novel fungal pathogen was isolated from ulcerative lesions on western pond turtles' shells.  Western pond turtle populations have disappeared entirely from many sites and have declined overall, and the species is now considered critically sensitive by the Oregon Natural Heritage Program. In Washington, they are listed as endangered, with only six remaining populations.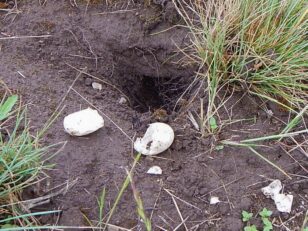 Greenbelt Land Trust has three properties with known populations of western pond turtles:  Little Willamette, Harkens Lake and Horseshoe Lake.  All three sites have undergone nest monitoring for three years so that nesting sites can be identified, preserved, enhanced or created.  More than 60 nests have been identified, most of which had been dug up by predators.  The broken eggshells left behind can be used to identify the turtle species, so the number of native western pond turtle nests vs. introduced red-eared slider nests can be estimated.  Our other imperiled native turtle species, the western painted turtle, hasn't been found at these sites.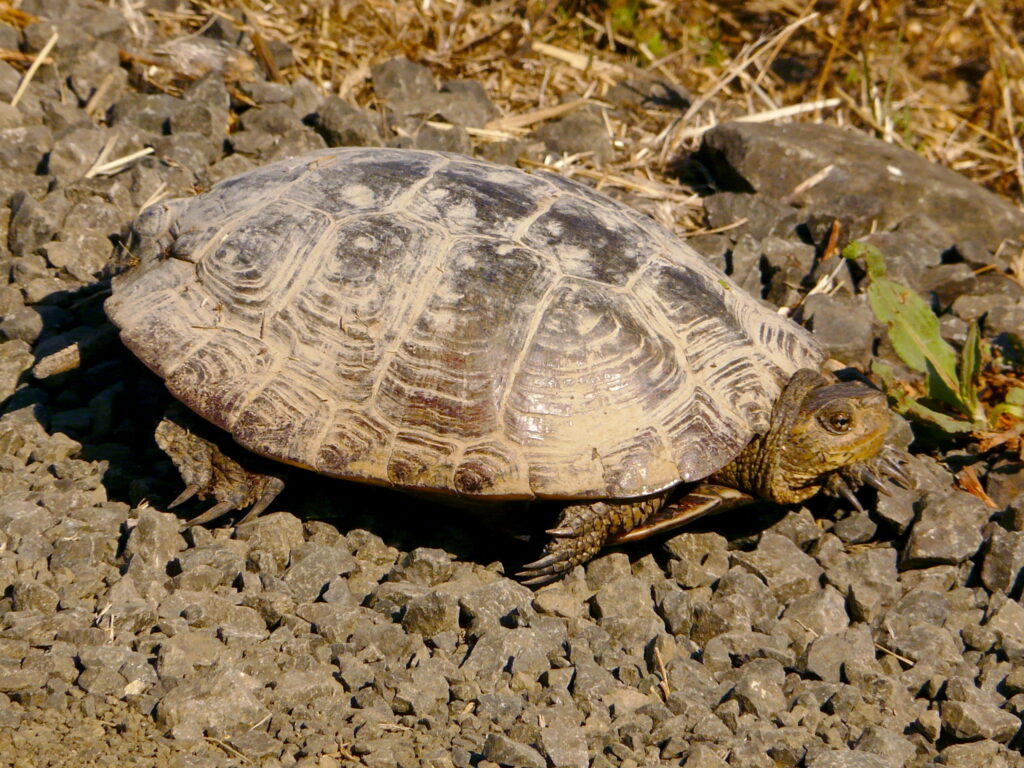 In the 3-year monitoring period, about 75% of the identifiable nests were western pond turtle nests.  There are quite a few nests that can't be identified, either because the nest is intact, (we don't dig up the eggs to identify them) or the predator that dug up the nest didn't leave any eggshells.  We don't know for sure, but it may be that coyotes are the ones who gobble down eggs, shell and all, so that no identifiable shell pieces remain.
The Oregon Department of Fish and Wildlife, Washington Department of Fish and Wildlife and Bonneville Power Administration have promoted and funded restoration and protection of nesting habitat, as well as a captive rearing program at the Oregon Zoo which has had success rearing and releasing turtles into suitable protected habitat.  Turtle nest monitoring on Greenbelt properties provides some of the information we need to plan for enhancing specific areas of turtle nesting habitat, and we are beginning to plan for this process.
Lisa Millbank, July, 2020
Want to learn more, and find out how you can help? The Oregon Native Turtle Working Group  would love to hear from you!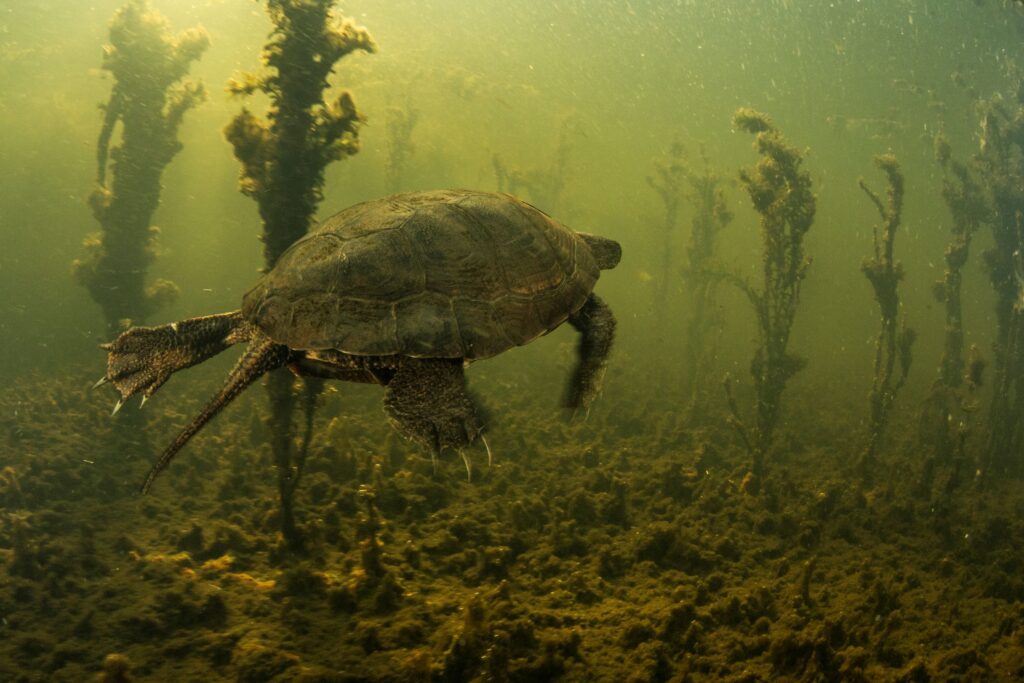 Behind the Images: Q&A with Jonny Armstrong
Jonny Armstrong is an Assistant Professor in Fisheries and Wildlife at Oregon State University and a Greenbelt Land Trust volunteer.
You have seen many of Jonny's amazing wildlife photos and videos in our newsletters and online since 2017, when he moved to Corvallis and began volunteering with us.  We were pleased to recognize Jonny's many contributions with the 2019 Volunteer of the Year award. We recently asked him a few questions about how he gets these amazing images and why he volunteers for Greenbelt.
Q: When did you first get involved with Greenbelt Land Trust?
In 2017 I met Matt Blakeley-Smith at my daughter's daycare. I had just moved back to Oregon and I was looking for local spots to camera trap. Matt mentioned the land trust and we both were excited about the possibility of using camera traps to exhibit the wildlife that benefit from Greenbelt's conservation.
Q: What's your favorite Greenbelt protected land?
I love Bald Hill Farm because it brings joy to so many folks in our community (as evidenced by the full parking lots) while also supporting a wide variety of wildlife. Elusive species such as bobcat thrive at Bald Hill despite all the human traffic. On a trail camera we set there we captured a bobcat waiting for folks to jog by on the paved path, crossing the path, and then returning a short while later with a rabbit in its mouth. I also love watching the Harrier hawks and Kestrels, looking for newts, and trying to find the humming birds that are often calling along the path.
Q: How and when did you start camera trapping?
In 2011 I was doing my PhD research in Bristol Bay, Alaska, where there are lots of brown bears.
At the same time, I was learning how to better use lighting in photography and I started dreaming of taking lit portraits of bears. I was doing a fair amount of fiddling with electronics for my research, so I got the idea to make a motion-triggered camera trap, so that I could set up elaborate environmental portraits without having to be there in-person to take the picture. It turns out there's lots of online tutorials for hooking up a motion sensor to trigger a camera, but I had to go through a lot of trial-and-error to figure out how to keep everything powered up in the wild. Since then I have camera trapped a diversity of critters, ranging from leopards in Kenya to Douglas squirrels in my backyard.

Q: Favorite capture on Greenbelt protected land so far?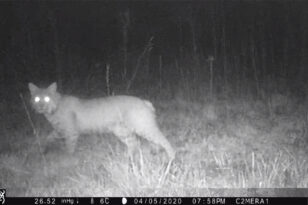 My favorite image remains my first success with Greenbelt. Matt and I set a bunch of trail cameras (which I use to scout areas to determine where to set up a fancier camera trap) in 2017, but we actually did rather poorly, getting a lot of deer and turkey, but few of the carnivores we were after. After moving the trail cameras around, I found a broad shallow spot in a stream, with a game trail leaving on both sides. I knew this would be a good spot and sure enough my trail camera captured video of a plump bobcat.
It took me a while to find time to set up my fancy camera trap, but when I did, the cat came through with a litter of kittens.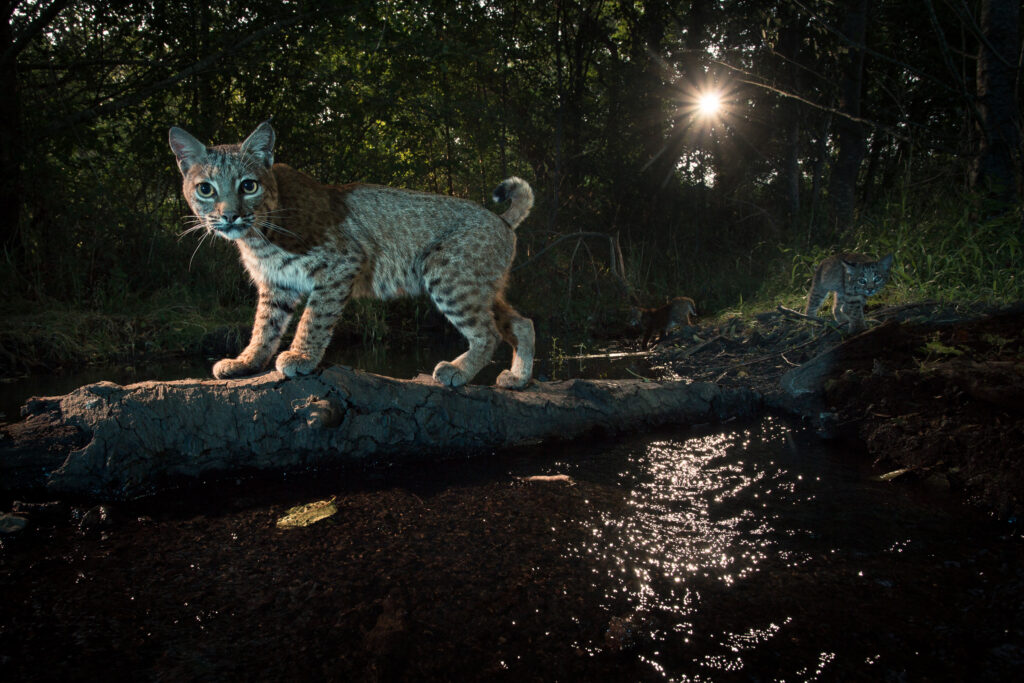 I was thrilled with the image of the bobcat family. The composition was great with the mother crossing the log in the foreground and her kittens along the stream in the background (including one crossing in a different spot). I love how the lighting of this shot looks natural but it's accomplished by adding artificial light to the scene. That sun is actually a flash that I hid in the background and it's what makes the glare on the water, so that you can tell this is a creek. I sent a narrow beam of warm light over the bobcat's shoulder that just brushes the right side of its face and balances with cooler fill light that comes straight-on from behind the camera. I still can't believe how perfectly this shot worked out, and it really captures everything I love about camera trapping: studying animal behavior, experimenting with light, and having nature surprise you.
Bobcats and mountain lions are unbothered by the cameras. The shutter click briefly piques their curiosity and sometimes they'll look over as though they are wondering if they heard potential prey. They don't seem to notice the flash, perhaps because it lasts less than 1/1000th of a second and does not need to be very bright, due to the sensitivity of today's camera sensors.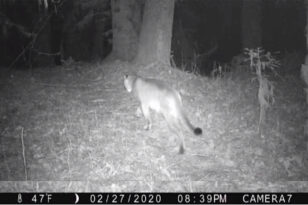 Q: What's it like bringing your kids with you to check or set up a camera?
In February I wanted to give my wife a break, so I took both kids with me to check a camera trap I'd set for cougar. My 3-y old Hayden was in a terrible mood and I forgot my 1.5-y old Rya's shoes and socks, so we were a real mess. I zipped Rya into my jacket and we set off, but then Hayden insisted on hitching a ride as well, so I had to hobble a non-trivial distance to my camera with two kids dangling off of me.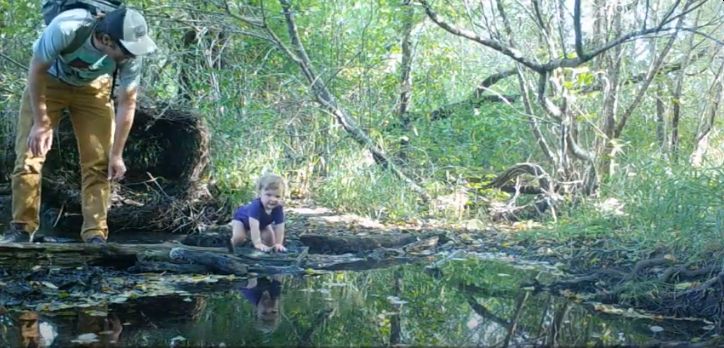 My kids cheered up fast once we were outdoors and they had fun playing on the log my camera was aimed at. A few days later a cougar came through and my camera captured her jumping onto the log. That's pretty much how camera trapping goes for me. I set the camera by myself usually (that's one thing I can't do with kids dangling off me), but every time I swap batteries or adjust the camera I have one or both kids with me. It's a really nice way to spend time with them; they love being in the woods and Hayden loves helping with the batteries.
Q: Why do you support the work of Greenbelt?
The Willamette Valley is a significantly better place to live because of the work of Greenbelt Land Trust and its partners. If you look at the Willamette Valley on Google Earth, the dominant features are industrial timber and agriculture. But living here and being on the ground, it doesn't feel this way. Greenbelt makes it easy for folks to get lost in nature in their own community. I feel incredibly privileged to be able to drive less than ten minutes to a place where I can track bobcats with my kids or watch them play on a log that I know a mountain lion will step on a few nights from now.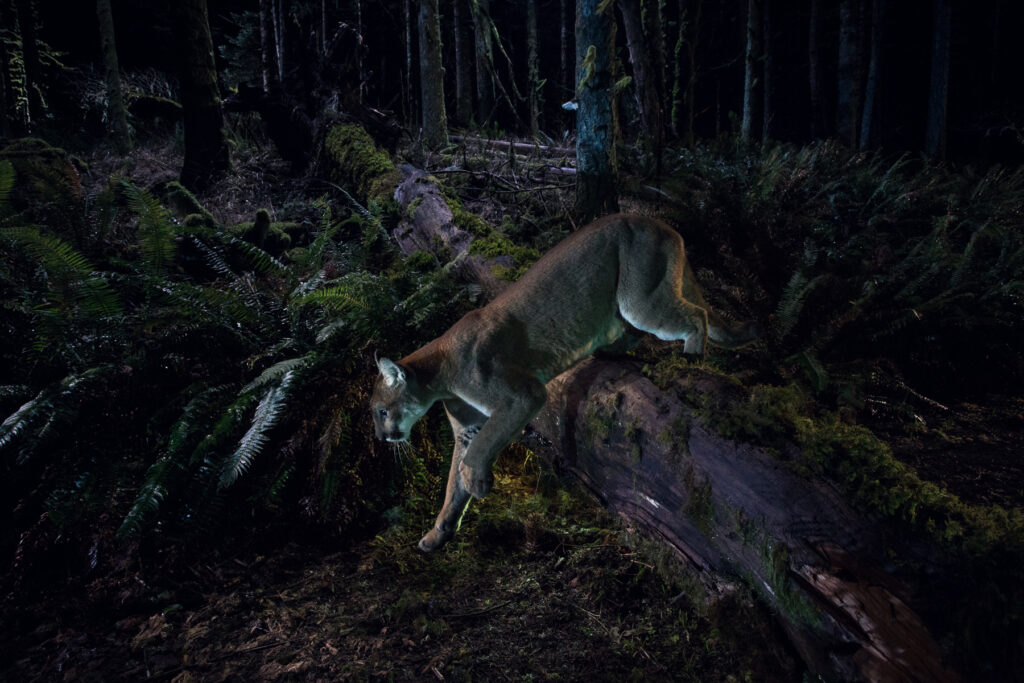 Family Walk: Wildlife Tracks
THIS EVENT HAS BEEN CANCELLED.
Due to concerns about the spread of the COVID-19 virus and in an abundance of caution, we have decided to cancel this event. Look for a re-scheduled event later in the year, and we hope you will be able to join us!