Eco Printing Online with Chris Bentley
Join talented artist Chris Bentley to learn about the art of eco printing, in which plant materials leave unique signatures on fabric or paper. Gather some easy to find plants and materials and make it hands-on, or just watch and learn about this fun craft!
Sign up and we'll send you information about materials to gather if you'd like to participate hands-on, and the log in details soon.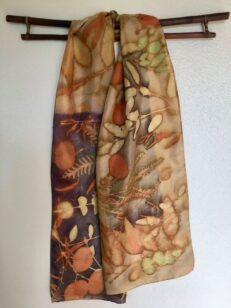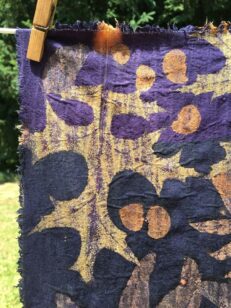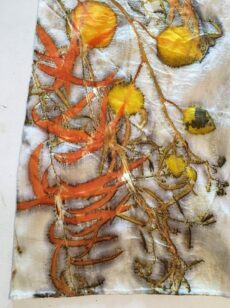 Tree and Shrub ID: Walk and Workshop**Filled**
Lead by Ed Jensen, Professor Emeritus, OSU College of Forestry
The first hour of this 2-hour workshop will be conducted inside Greenbelt's Bald Hill farm house and will improve your ability to identify trees and shrubs in general.  In it, you will hone your knowledge of key plant characteristics and learn to use the identification key in Shrubs to Know in Pacific Northwest Forests to identify unknown shrubs.  The second hour will consist of a walking tour on the gentle trails around Bald Hill Farm, during which you will apply the skills you learned in the first hour.
If you already own a copy of Shrubs to Know in Pacific Northwest Forests (OSU Extension Circular 1640) please bring it. If not, we will have copies for purchase (proceeds going to Greenbelt), and will have several copies to loan.
Ed Jensen is an award-winning educator and author who spent nearly 40 years teaching OSU students (and others) about the identification and ecology of the trees and shrubs that comprise Northwest forests.
Thank you for your interest, this workshop has been filled.
A Conversation on Conservation
Nature has value, but what is that value and how do we protect it? Given competing interests and visions of the public good, how do we conserve our common resources such as land, water, and air? Participate in a thought-provoking discussion facilitated by Oregon Humanities. This is part of a Conversation Project hosted by Greenbelt Land Trust. Join us as we sit outside at beautiful Bald Hill Farm and explore our environmental values and question how those values are reflected—or not reflected—in current local, national, and global environmental policies.
The discussion will be framed around two readings. Reading at least one in advance is recommended to participate meaningfully in the discussion:
Special guests this evening will include local writers and philosophers, Kathleen Dean Moore and Michael Paul Nelson.
Registration:
For more info and to sign up, email rebecca@greenbeltlandtrust.org or call the GLT office at (541) 752.9609.
The Conversation Project:
With their Conversation Project, Oregon Humanities brings Oregonians together to talk—across differences, beliefs, and backgrounds—about important issues and ideas.  The goal is to connect people to ideas and to each other, not to push an agenda or arrive at consensus. Conversation is a powerful medium to invite diverse perspectives, explore challenging questions, and strive for just communities. Facilitators are trained to connect their topic to the local community and to challenge participants to think in new ways.
Leader:
Monica Mueller is an instructor of philosophy at Portland State University and specializes in ethical and political philosophy. She published the book Contrary to Thoughtlessness: Rethinking Practical Wisdom and is interested in discussing the seemingly overwhelming problems of living together in a world with others.
Nature Writing Workshop with Henry Hughes ***FILLED***
This event is currently full. Join Greenbelt Land Trust for a special writing workshop led by award-winning Oregon author and poet, Henry Hughes. This free workshop at the Little Willamette conservation area along the Willamette River will include a nature walk and writing discussion, personal writing time, and a group reading. Space is limited and this private conservation area is open only to GLT-led tours, so sign up today!
Registration
Thank you for your interest. This event is currently full.
Workshop Leader: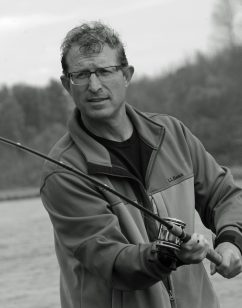 Henry Hughes grew up on Long Island, New York, and has lived in Oregon since 2002.   He is the author of four collections of poetry, including Men Holding Eggs, which received the Oregon Book Award. His memoir, Back Seat with Fish: a Man's Adventures in Angling and Romance, was published in 2106 by Skyhorse.  An active angler, naturalist, and literary critic, he edited the Everyman's Library anthologies Art of Angling: Poems about Fishing and Fishing Stories. His essays and reviews appear regularly in the Flyfishing and Tying Journal and Harvard Review. He teaches at Western Oregon University.
Get Outdoors Day 
This event celebrates the national Get Outdoors Day in Oregon and is sponsored by Greenbelt Land Trust and the Coalition of Oregon Land Trusts.
Oregon land trusts work to protect our rivers, farms, forests, wetlands, and wild places. Our land is not always easy to see or experience, but each acre benefits our diverse communities.  On Get Outdoors Day, we want you to experience these places, properties, and big open spaces.  Attend an event, bring friends, take pictures, and have fun outdoors! #GetOutdoorsOR