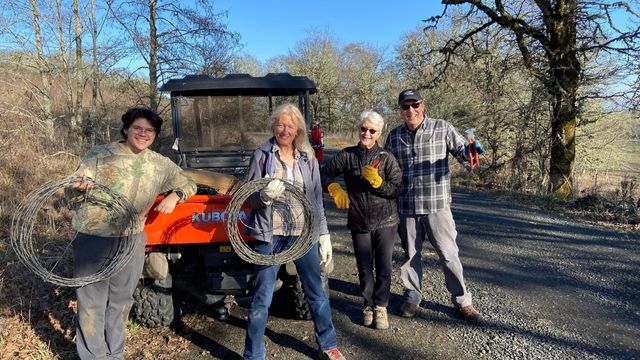 Join Greenbelt staff and fellow volunteers for an Earth Day work party removing un-needed fences at Courtney Creek on Saturday, April 22nd, from 10 am to 2 pm. We will work to remove old wire and posts, opening up wildlife corridors for the elk and other wildlife that call Courtney Creek home.
Courtney Creek is located south of Brownsville, about a 45 minute drive from Corvallis. If you are only able to attend for part of the time, you're still welcome to join us, just send an email to jean@greenbeltlandtrust.org to discuss.
Wear: Plan to dress for the weather with layers and rain gear or sun protection as needed. We will be working with barbed wire so closed toed shoes, long pants, and long sleeves are required.
Bring: Tools and gloves are provided. We will take a lunch break around noon, please bring a lunch and a water bottle with you (some snacks will be provided). You should also bring any emergency medications you usually carry on outdoor excursions for personal use (like an Epi-Pen).
Accessibility notes: No previous experience is necessary. We will hike ~1 mile off trail to access the fences and will use hand tools as we work. There are no restrooms on site.
Location: We will be working at Courtney Creek, which is located ~40 miles from Corvallis, south of Brownsville, OR. Directions to the exact meeting location will be provided the week before the event.
Sign up below to celebrate Earth Day by improving wildlife habitat!