Evergreen Vernal Pools and Wildflowers **FULL – Waitlist Available**
May 22 @ 10:00 am

-

12:30 pm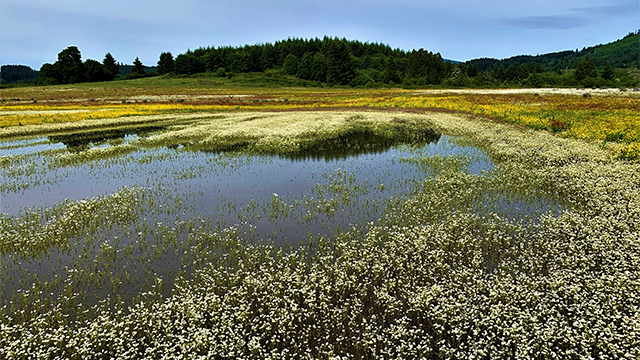 This event is full, please contact Matt Benotsch for the waitlist, mbenotsch@greenbeltlandtrust.org
Join Greenbelt staff on an exploration of the vernal pools and wildflower bloom at our Evergreen property outside of Philomath. Protected in 2009, this 221 acres holds wetlands, remnant prairie, ash swales, and has seen extensive restoration including creation of vernal pools.
Vernal pools are shallow depressions in wetlands or on other slow to drain soils that fill up with water in the fall and winter and dry up completely in the summer. They are home to many plant and animal species, and important habitat for migrating birds looking for a snack along their journey.
Evergreen has an impressive display of wet prairie wildflowers in the spring, including lupine and popcorn flower, and we should be visiting right around peak bloom, which means butterflies and native pollinators are also expected.
We will be touring at a leisurely pace over a relatively small area, including some soggy and uneven terrain. Dress for the weather, and bring snacks and water. Rubber boots or a change of socks and shoes for the ride home are a great idea, we will probably be moving through some shallow water.
Group size is limited and masks are required, but may not need to be worn the whole time as we spread out on the property.
This event is FULL. To be placed on the Waitlist, please contact Outreach Manager Matt Benotsch, mbenotsch@greenbeltlandtrust.org