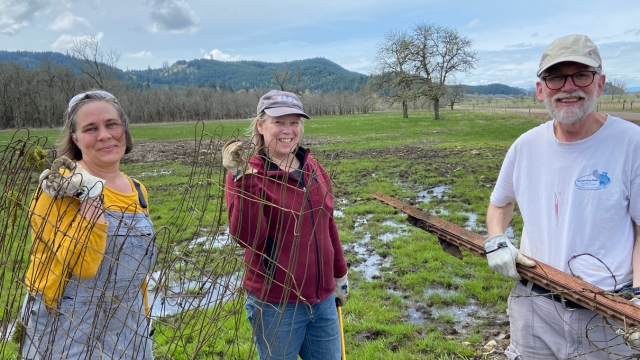 Join Greenbelt staff and fellow volunteers for a seed collection and fence removal work party on Friday, August 11th, from 9 am to 1 pm. We will work to open wildlife corridors and collect native plant seeds for replanting in our habitat restoration projects.
Courtney Creek is located south of Brownsville, about a 45 minute drive from Corvallis. If you are only able to attend for part of the time, you're still welcome to join us, just send an email to jean@greenbeltlandtrust.org to discuss.
Wear: Plan to dress for the weather with layers and sun protection. We will be working in a open prairie in full sun (with access to shade for breaks.) The fencing project will include barbed wire, so long pants and long sleeves are recommended. Please wear sturdy closed toed shoes for hiking off trail.
Bring: Tools and gloves are provided. We will take a lunch break around noon, please bring a lunch and a water bottle with you (some snacks and extra water will be provided). You should also bring any emergency medications you usually carry on outdoor excursions for personal use (like an Epi-Pen).
Accessibility notes: No previous experience is necessary. We will hike ~2 miles off trail to access the fences and seed collection areas. There are no restrooms on site.
Location: We will be working at Courtney Creek, which is located ~40 miles from Corvallis, south of Brownsville, OR. Directions to the exact meeting location will be provided the week before the event.
Sign up below to help with our ongoing restoration efforts!