Healthy Trails to You!
For many of us, trails and access to the outdoors are more important than ever. The Covid-19 pandemic has introduced a current of stress and anxiety into daily life and we turn to nature for relief and joy.
We recognize our privilege to be able to turn to trails, parks, and outdoor spaces without worry for our safety, and without wondering whether we will be welcomed or threatened.
We are committed to listening with humility to the voices of people who do not have that privilege, to making our trails and natural areas welcoming and safe for everyone, and to reflecting and acting on how we can provide equitable access to nature for all.
Give Back to Trails
We are celebrating healthy trails and access to the outdoors this month, and we are asking you to give back to the trails you love by making a donation to the Greenbelt Trails Fund.
We use the Trails Fund to build, maintain, and improve trails, and get you and your family out into nature. All donations to the Trails Fund in June will be matched, up to $2500.
Community members have been sharing their love of the trails around Bald Hill in the last few months, and we asked some to share their photos and write a little about what the trails mean to them. Their kindly responses follow.
Kristen Lipscomb
"As a family, we use the path through Bald Hill nearly daily. We live close by, so it's a great easy place to run without worrying about vehicle traffic. Since stay-at-home started we have been getting out more with the kids in the stroller, and Bald Hill is often where we end up.
We love the view from the top!
We get outside to keep our bodies moving, to explore and learn about the world around us. Getting out in nature improves our moods and reduces stress.  One of my favorite things is running at sunrise. The paths and trails of Bald Hill are a great place to watch the sun come up over the mountains of Central Oregon."
Chris Johnson
"I use the trails for walking and hiking at Bald Hill. I like the diversity of the trails as they offer all kinds of experiences.  You can keep it light and easy or take the trail all the way to Cardwell Hill.  It really is an amazing trail system that wanders through the woods, the fields, and the windswept hills. I go all over the place, but really enjoy going to Fitton Green via Mulkey Ridge.
I'm using the trails more since stay-at-home started. So nice to get a walk in before work, to clear the head and let the fresh air and bird chirps give you positive energy to start the day.
It is absolutely paramount for me to get out into Nature to benefit my mental health. I think doctors really should have people spend time in Nature for some of what ails them. It does wonders for me and I pretty much need to do it every day, especially now, as I am a retail manager at First Alternative Co-op. For a while there it was extremely stressful and a week would pass but it felt like a month. I had to get out to our local trails often to escape for a moment and let Nature work her magic."
Leena Hussain
"I have been living in Corvallis for 2 years now and I love the natural areas, parks and trails here, they are absolutely beautiful.
Bald Hill Natural Area and Fitton Green are my favorite, visiting these places has always made me feel absolutely refreshed and alive, and it totally helps with my mental health and healing. It's hard to put into words how I feel about this place but Corvallis has my heart."
Michelle Tipsword-Injety
"I am a mountain biker and trail runner.  I primarily trail run at Bald Hill and my favorite route is the Run for the Hills route, hands down! My two favorite segments of this route are running through the meadow, which is just off the paved road and then seeing the view at the top.
I was furloughed for a little over a month in April, due to Covid-19.  Having Bald Hill open and available during this time helped keep my mental frame-of-mind healthy and happy.  I have been a mountain biker and trail runner for over 15 years.  There is absolutely nothing like being in the forest…all stress and worry melt away and it's just me and Mother Nature sharing a moment together.
In August 2019 I was training for a trail half-marathon.  I was in the midst of a speed workout at the track when I had a traumatic injury, a full-thickness tear of my left common hamstring tendon. Once out of surgery I faced a very long and difficult recovery.
I am now a little over 7 months post-op and I am ahead of schedule with regard to my running, riding and lifting.  I attribute my incredible recovery to a couple of things, including being able to access the amazing trails at Bald Hill! Having access to the forest filled my entire body with happiness and purpose.  The trails at Bald Hill mean everything to me because they helped me get my life back."
Jonny Armstrong
"We do all sorts of stuff at Bald Hill. Many adventures start at the Oak Creek parking lot, where we head south on the paved trail and hope to see a newt in one of the adjacent wetlands or spot some deer in the fields farther off. Originally it was walking with an infant strapped to your chest, and now it's a lot of chasing kids and saying hi to dogs.
Since our kids have been out of childcare because of the pandemic, we've relied on the trails to keep them entertained and to manage the stress of these crazy times. My kids absolutely love the Mulkey Ridge hike and we do it four days a week sometimes. There are all sorts of great obstacles along the trail that they call their 'play spots'. They're especially fond of a fallen oak tree that has springy limbs.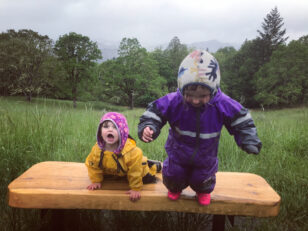 Having these opportunities to get out in nature is so important for my family. Seeing my kids barrel down the Mulkey Ridge trail brings me a lot of joy, and carrying them up the hills is a great way to blow off stress and get exercise. I know it's especially important for my kids. They sleep better and are generally much happier on days when they ran wild, even if they do take a few face plants every trip."
Robert Swan
"As a lifelong trail runner with three cattle dogs, getting out on the trails is an essential daily part of a healthy life.  During the Covid-19 pandemic, Bald Hill was the only place I could run since the area forests were closed.  Being able to access these trails was so important to my health and well-being, as well as to my dogs, that I can't overstate it.  There were just no other options for someone like me and I am thankful that these remarkably beautiful trails remained open.
My favorite trail run is from the Oak Creek Parking area at Bald Hill to Mulkey, and the Mulkey connector out to Fitton Green.  From there I am able to access Crestmont  Land Trust trails and continue all the way to Wren.  It is a fantastic trail system and an amazingly collaborative effort by multiple government and non-profit organizations!  Some of the most beautiful trail running I do is within this trail complex!
There are so many cool things on these trails, from oak trees that are hundreds of years old to the huge flocks of wild turkeys.  The coolest thing I ever saw out there was a cougar hunting turkeys on the Mulkey connector.  Wow, what an experience that was!!"
What's Your Trails Story?
We'd love to hear what the trails around Bald Hill mean to you! Share your stories and photos with us on social media, tag us, or send us an email. Let people know you love local trails!
Run for the Trails!
Run for the Hills was canceled this year, but our friends at Heart of the Valley Runners and our generous run sponsors are teaming up to offer a Virtual Run for the Hills for 2020!
Walk, run, or roll on your own schedule in the month of June and support local trails! Report your results, make a $20 or more donation to the Greenbelt Trails Fund, and you can get a race shirt. All donations to the Trails Fund in June will be matched, up to $2500 by our Run for the Hills sponsors.