Meet the Staff
WE CARE.
Each and every one of us is committed to leaving a legacy of land and water for your children and grandchildren. We are friendly folks and are always excited to share our love of the land with you … come and visit with us anytime!
Jeff joined Greenbelt in 2008 after working nine years as a biologist for a Native American tribe in western Oregon where he worked on fish, wildlife, rare plants, habitat and environmental projects. Jeff has a B.S. in Wildlife Science and an M.S. in Geography from Oregon State University. Outside of work Jeff likes to explore the outdoors and work around the house with his wife and two children.
Matt joined Greenbelt Land Trust in 2020 with twenty years of commitment to ecological stewardship and outreach in the Willamette Valley. He is excited to meet you out on the land and share our protected places. When not working Matt enjoys spending time with his wife and son at home in Eugene, playing competitive disc golf, organic vegetable gardening, and slowly transforming his yard into native habitat.
Matt joined Greenbelt Land Trust in 2013, after working ten years as a restoration biologist for the Institute for Applied Ecology. Matt believes that meaningful conservation requires the participation of private citizens. From gardening in a small suburban lot, volunteering on a weed-pull, or planting a riparian buffer, everyone can play a role in shaping our environment. While not driving a tractor, Matt enjoys growing carnivorous pitcher plants and raising honey bees with his wife and son on their urban micro-farm.
Claire's background in farming and forestry fuel her passion for community-driven conservation. Claire joined Greenbelt in 2019, and today, she leads Greenbelt's Conservation Team to protect the precious lands and waters of the Willamette Valley. Claire has a BA in Environmental Studies from Dickinson College and Master degrees in Forestry and Environmental Management from Duke University. In her free time, Claire loves to hike, garden, and eat good food!
Ketty is a contracted employee of Greenbelt and has an extensive background in budget development, financial performance evaluation, and non-profit management. An MBA graduate of the Lundquist College of Business, at the University of Oregon, she worked as a Senior Financial Analyst for Hewlett-Packard for six years developing financial models and projecting the profitability of HP's worldwide inkjet business. She has served on the Board of non-profits including Corvallis Community Children's Centers and the Center for Nonprofit Stewardship.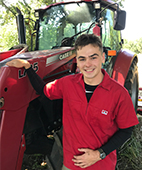 Alex joined Greenbelt in the summer of 2021 in the role of Habitat Restoration Technician, performing stewardship and management in the field. Alex is a recent Oregon State University graduate with an undergraduate degree in Fisheries and Wildlife Conservation Science and a certificate in Geographic Information Sciences. As an avid outdoorsman, you can likely find him on a nearby river or on a trail enjoying Oregon's magnificent outdoor spaces.
Suzanna joined Greenbelt in 2016 as the Accounting Clerk. Raised in Northern Indiana, she relocated to Corvallis after living in Los Angeles for 22 years. With over 20 years of bookkeeping experience, Suzanna brings a strong background in financial and business management to Greenbelt. Suzanna earned her Landscape Architecture Graduate Certificate from UCLA Extension, with a focus on plants and urban stream renewal. Outside of work she enjoys adventures in nature, gardening with native plants, Taoist studies and live music experiences.
Jessica became Greenbelt's Executive Director in 2020 after having served as Associate Director and Development Director for the organization since 2009. With deep Oregon roots and a passion for conservation and community, Jessica leads the organization's strategic vision, financial resiliency planning and operations. She loves muddy trails, jazz, family shenanigans, rescue dogs, and Oregon rain. But, more than anything … she cares about leaving a legacy of clean running rivers, wild outdoors, and colorful Valley prairies for generations to come. Get to know Jessica.
Carolyn joined Greenbelt Land Trust in 2021, bringing eighteen years of experience working to conserve western Oregon and southwest Washington species and habitats. She is passionate about collaborative partnerships and implementing regional conservation planning and on-the-ground restoration, particularly for prairie and oak habitats. Carolyn is always eager to share her botanical expertise and affection for native plants and butterflies. When not working, Carolyn is an avid runner on local trails and enjoys outdoor adventures with her husband and two sons.
Andy joined Greenbelt Land Trust in 2022 with twenty years of experience working in the prairies and forests of western Oregon. Most recently, Andy worked for the Institute for Applied Ecology restoring and enhancing prairie habitat for endangered species like Taylor's checkerspot and Fender's blue butterflies. Andy thrives on building strong partnerships that combine efforts to reach common goals. In his free time, Andy enjoys shuttling his kids to their activities, riding his bike with family and friends, and exploring any location with great views and native vegetation.
Lily joined Greenbelt in 2022 with a background in community outreach, nonprofit work, and event coordination. She's passionate about environmental conservation and building genuine connections with people and is looking forward to the natural intersection of those passions at Greenbelt. Originally from the Midwest, Lily moved to Oregon for the trees, mountains, lakes, and coast. In her free time she loves hiking, backpacking, crafting, game nights with friends, and exploring our local lands with her pup Winnie.