Restoring Habitat
"The Vesper-bird … from its evening hymn, or vespers." – Wilson Flagg, 1858
This sweet and unassuming bird delights in dust baths; makes a home in open spaces like meadows, prairies and even along roadsides; and makes friends of farmers by eating insects and weeds that otherwise damage crops [American Bird Conservancy]. But, it is this grass-dwelling bird's song that delights the hearts and ears of naturalists and ramblers alike.
"The Vesper Sparrow's sweet song, a combination of clear whistles and trills, can often be heard at twilight — roughly the same time as Catholic vespers services, which earned the bird its name" [American Bird Conservancy].
With less than 1% of native prairie remaining in the Northwest due to human impacts like prairie conversions to large-scale agriculture and development, the Vesper Sparrow population is declining rapidly. This increasingly rare bird serves as a critical link in ensuring the diversity necessary for ecosystem health — a delicate ecosystem that all life depends on.
Greenbelt Land Trust has been working with Bob Altman, Oregon Vesper Sparrow expert with the American Bird Conservancy, at Bald Hill Farm and Little Willamette to gain a better understanding of potential limiting factors on Oregon Vesper Sparrow populations.
"With so few birds remaining, many in small and isolated populations, the Oregon Vesper Sparrow needs the immediate protection and conservation focus made possible through [Endangered Species Act] listing… Every year, more populations are being lost, and we are not seeing the establishment of new populations where habitat restoration has occurred" [Altman, Bob (2017, Oct 6). Vesper Sparrow. Retrieved from https://abcbirds.org/bird/vesper-sparrow].
Since 2017, Altman has been looking at a variety of factors for Greenbelt, including the survival and return rates of adults wintering in California; the number of eggs laid and the number that hatch; survival from hatching to fledgling; and the number of those that fledge, winter in California, and return to Oregon the following year. This critical study helps tease apart important factors in the declining population of the Vesper Sparrow.
Guided by questions that consider a multitude of possible ways in which the Vesper Sparrow may struggle to maintain its population opens doors for exploration. Where is die-off occurring? Are Vesper Sparrows laying too few eggs to maintain population? Are eggs being eaten by predators like Coyotes or trampled by cows in pastures? Are Vesper Sparrows struggling due to scarce food sources or decreasing quality or access to habitat?
Greenbelt's work in protecting and restoring the land is strategic and intentional. We develop our conservation priorities around building a connected, resilient landscape that supports native species with a focus on increasingly vulnerable species, like the Vesper Sparrow.
For this little brown and white bird and her delightful song — Greenbelt's stewardship team gives focused attention to the characteristics of existing nesting sites and habitat preferences in order to regenerate the land and provide a more resilient habitat for the Vesper Sparrow to flourish.
Drones + Restoration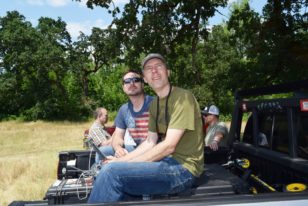 Sometimes you need to get a better view.
Since the first aerial images were taken in the Willamette Valley in 1936, organizations like Greenbelt have utilized these images to get a birds-eye view of our work. With the recent emergence of professional drone operators, staff have been able to hone into our restoration projects even further.
When you're planting hundreds of thousands of trees, it can be pretty handy to get above the treetops to see how your plantings are doing! Drone footage has helped staff understand the dynamics of a river system, analyze success rates of new plantings, and track management over time.
Special thanks to Intel Corporation for financing a drone to help track ongoing floodplain restoration!
Retirement Project
Four and a half years ago I started a blog:  "Today," I wrote, "we bought a farm."  The reaction to this announcement was not unexpected.  "Have they forgotten how old they are?" our friends asked one another.  Our kids texted back and forth between Pasadena and Seattle.  "Weren't one of us supposed to be watching them?  What's next?  Beach-front property in Florida?  A Winnebago?"
No, freed from the constraints of a downtown job and the supervisory presence of offspring, we bought a piece of property along Llewellyn Road in Corvallis.  A hundred acres was more than we'd had in mind when we began to search, but there it was.  Rolling oak savanna, wetlands along Muddy Creek, a thick oak copse, and a view of Marys Peak.  We were so struck by the beauty that we didn't stop to consider that farming is actually not a profession easily learned on the autumn slopes of life.
But that was okay.  We didn't intend to "farm" this property.  What we had in mind was work on habitat restoration along the lines of the many sites we'd visited during Larry's tenure as board member of the Oregon Chapter of the Nature Conservancy.  Yes, I know.  Habitat restoration isn't easy, either, for amateurs like us without a lot of help.
The land had been heavily grazed and was choked with thistle, tansy, and blackberry.  The seasonal streams were degraded, a derelict house slumped on its foundation, the well, though operative, was heavy with nitrate, and the grazing cattle drank freely from Muddy Creek.  Yikes!
At about this point, the USFWS Partners Program came into our lives.  They would come onto the property, assess possibilities, provide plans, and even offer financial help in implementation.  A chance meeting with Jessica McDonald from Greenbelt Land Trust led to our introduction to the conservation community.  The amazing Donna Schmitz of Benton Soil and Water Conservation District led a successful bid for an OWEB grant.
And here we are in September of 2018.  The streams have been fenced and their banks planted with some 6,600 trees and shrubs all thanks to the grant.  Muddy Creek has been fenced off from the attention of grazing cattle.  (Don't worry, a system of pipes provides water from the well to watering stations for the animals.)  Jarod Jebousek of USFWS is working to restore the natural flow of water across the land, planning to build a vernal pool on behalf of birds and aquatic creatures like frogs and salamanders.  He's planted 13 acres of native seed to attract monarchs and the Fender's blue butterfly.
There have certainly been challenges.  Cleaning the barn after decades of dairy animals wasn't much fun.  Two years pulling tansy led to an acceptance of judicious spraying.  I accidently weed-whacked one of our new apple trees to death.  A little family of mice unknowingly settled into the foundation of the house as it was being built and sadly died over the first summer of our residence.  We drilled four wells, only one of which provides water, that ran dry, however, the morning of the open house we hosted for our Portland friends.  We lost the largest oak on the property to old age or wind last week, though it thoughtfully heaved its huge branches across, not onto, the new perimeter fence.
At the moment, we're working to relocate the little chicken coop we had built.  Misplaced, it slopes with an endearing charm, but must be moved to a site adjoining our fenced orchard.  This so that the three hens we have yet to acquire may roam freely among the trees neighboring their new home.
While there's no end to the work, we remain (despite the skepticism of friends and family) enthusiastic, although usually tired by the evening. We are pleased we chose this retirement option instead of golfing in the desert or that beachfront condo in Florida.
Blog Post: By Jane Viehl – you can follow along with Jane and her husband Larry's restoration and farming progress on Jane's wonderful blog Hundred Acre Wood.
Plant for Kids & Wildlife **CANCELED**
This event has been canceled due to inclement weather. Please join us at a future event!
Join Greenbelt Land Trust volunteers and staff as we restore streamside habitat for wildlife and fish at Bald Hill Farm. We'll be planting shrubs and trees that will be stewarded by local 3rd-graders as part of the Exploring Oregon's Ecosystems outdoor education program this spring.
*All ages welcome. Anyone under 18 needs to be supervised by a parent or legal guardian.
What it takes to do this activity:
Note: Directions and details will be provided prior to the event.
For more info or questions, contact rebecca@greenbeltlandtrust.org