Backyard Birding
"I would recommend bird watching to other kids who are also out of school because it is fun and it can help you calm down during a stressful time like this."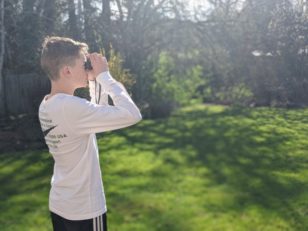 We're all feeling the stress of uncertainty as we get through the first days of what may be an extended period of social isolation and staying home.
Parents are scrambling for ways to teach, inspire, or just deal with their kids with the schools closed. Everyone's at home, all day.
For Claire Fiegener, Greenbelt's Conservation Director, birds were part of the solution, and a new hobby for her kids.
"After realizing that my husband and I would be working from home while our twin 13-year-old boys would also be home from school, and the initial panic started to wear off, I knew we needed to provide some fun and structured activities they could do during the day.
Learning more about our local "backyard" birds appeared to spark some interest, so we brought out our binoculars and bird identification books, printed out local common bird lists, and downloaded bird ID apps on their iPads.  They set up notebooks to document the species they were viewing and general information about the time and location (in the yard) they were conducting their viewing activities.
We present different challenges to them such as what time of the day do you tend to see more birds, how does the weather impact your viewing, and can you use the bird ID apps (that include bird song recordings) to identify any birds by their song, to try and keep them engaged and interested for as long as possible.
As my family is working to adjust to these uncertain and trying times, it does bring me joy to see my children discover a new 'hobby' as they call it, that sparks their interests."
What do they think about their new stay at home work, and how is it making their stay at home time better?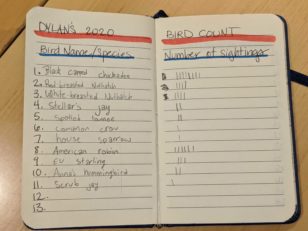 Let's hear from one of Corvallis's newest birders:
"Bird watching is fun because it is nice and peaceful outside, it is cool to look at pretty birds, and it gives you something to do to get some fresh air. I think it is peaceful outside because no one is talking and it is very quiet.
I find the birds to be pretty because they are very graceful and their calls sound cool. In addition, the bird's multi-colored feathers are very unique and nice to look at. I would recommend bird watching to other kids who are also out of school because it is fun and it can help you calm down during a stressful time like this.
I first did bird watching last week.  It is a very fun and cool hobby especially at a time like this while kids are home from school because of the Covid-19 virus, and if you haven't done it before, now is a great opportunity to try it!"
This is how kids get hooked on birds, they learn it at home.
Bird watching is an easy way to connect with nature and once you start it may be hard to stop. On your walk, in the car, or from the couch, birds can be seen or heard just about anywhere.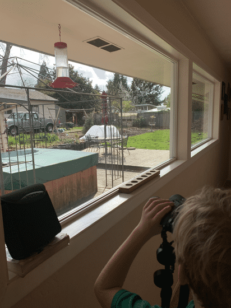 Backyard birders can contribute to citizen science, enter photo contests, and even play Fantasy Birding.
Feeling cooped up and want to get your family started in the world of birds?
Claire has some great tips up above, and here's an article from the Cornell Lab of Ornithology with resources for bringing birds into your life and making the next few weeks a little easier.
We'll be posting more ideas and resources for home science and nature learning on our social media channels over the next few weeks. Be safe, and bird on!