Holiday Open House
All are invited to the public open house and holiday gathering hosted jointly by Greenbelt Land Trust, Marys River Watershed Council, and Benton Soil & Water Conservation District. Visit with staff, volunteers, and friends while learning about our conservation projects and partnerships. Enjoy delicious treats and beverages.
There's a lot to celebrate this year! Drop by or stay awhile – we look forward to seeing you!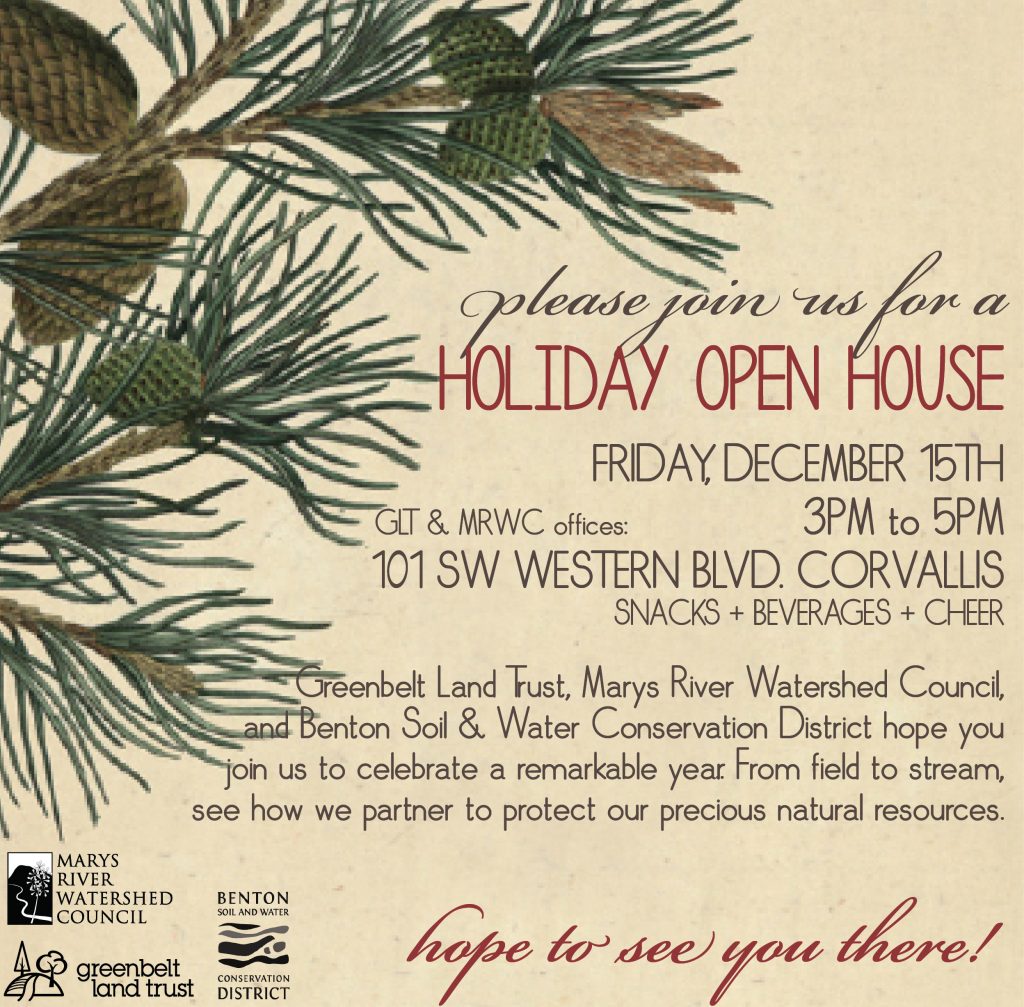 Holiday Open House!
Weather note: This event is still on!! Join us for a public open house and holiday gathering hosted jointly by Greenbelt Land Trust, Marys River Watershed Council, and Benton Soil and Water Conservation District. Come and visit with staff, learn about our work and partnerships, and enjoy delicious homemade pies, cookies, and hot cider (made from Bald Hill Farm apples) with friends. Plus, be serenaded by the Spartacappella high school group at 3:30 pm. Drop by or stay awhile – we hope you can join us!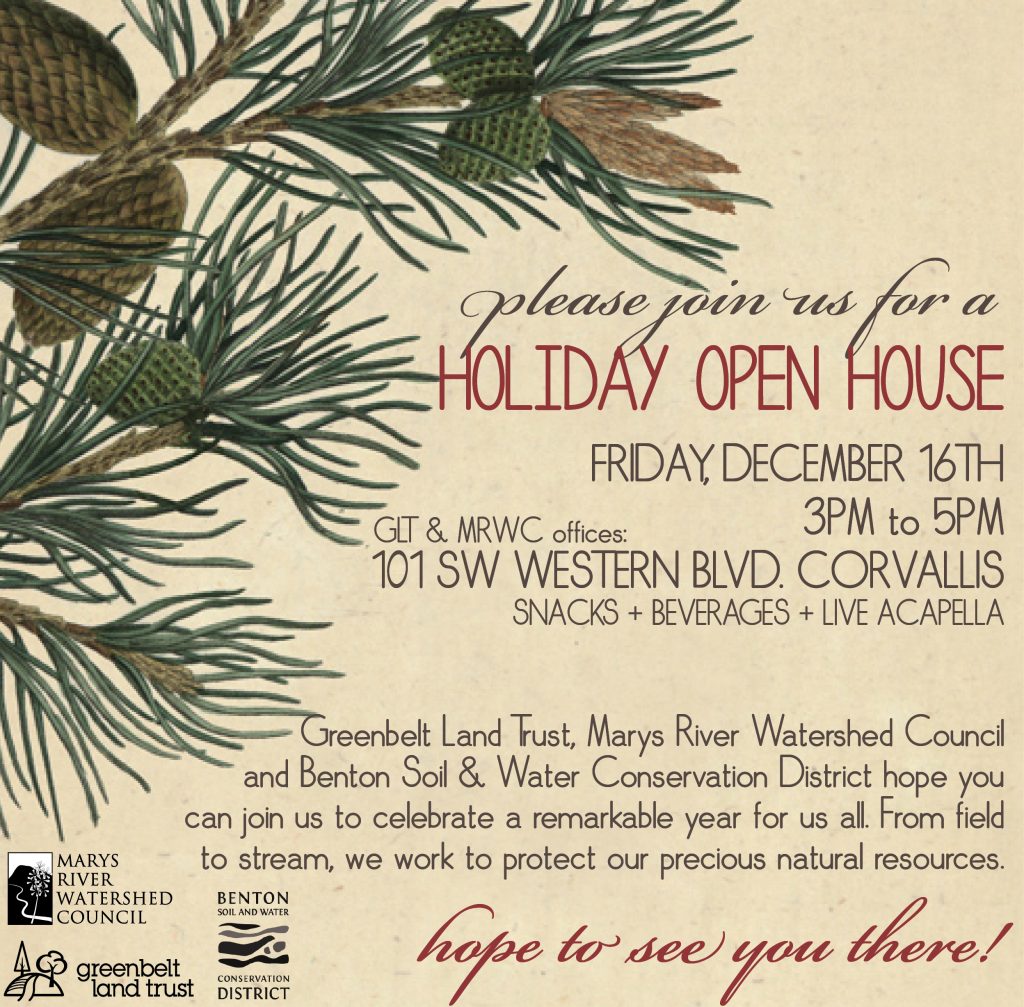 UPRIVER Film Premiere in Albany
Join Greenbelt and partners for a special screening of the local documentary UPRIVER. This 'watershed film' explores one of the Nation's most active river conservation movements. Within Oregon's Willamette River system, the film focuses on people from all walks of life who are coming together to revive the health of this large river and the life it supports. Watch the preview at: www.up-river.org
At this family-friendly event, meet the filmmaker, enjoy light refreshments, talk with representatives from local conservation organizations, and see a visually stunning and powerful film that is sure to leave you feeling inspired!
This free event is brought to you by the Calapooia Watershed Council, Freshwaters Illustrated, Greenbelt Land Trust, and the Albany Public Library. No reservations required. We'll see you there!
A Look Back
Since its founding in 1989, Greenbelt Land Trust has celebrated many conservation accomplishments, developed relationships with friends of open spaces, expanded our horizons to include four Counties throughout the mid-Valley, and emerged as a leader among Oregon conservation. We often look back at the people who founded this organization, inspired by their grassroots ambitions and perseverance. In the early days, two of our founders, Charles and Elsie Ross, developed their personal Vision Statement for GLT. This Vision Statement has stood the test of time, and continues to inspire all of us all.
Our Vision Statement
We support the greenbelt concept because it provides a happier way to live in cities large or small. Corvallis and Philomath are blessed with a most interesting and varied physical setting. Every dictate of reason and desire tells us to retain some of the green fields and wooded hills where we can see them daily and reach them easily. Walking the footpaths and wooded trails of the greenbelt would become our most popular recreation, and a passionate pursuit for many. The healing hand of Nature would lift the spirits of those burdened by the loneliness and disappointments of life. Everyone would enjoy a greenbelt, and none more than our myriad successors destined to trod its trails far into the future.
Elsie and I believe that Nature is the greatest comfort of life. Friends and books are priceless comforts, too, but friends are not always at hand, and much reading may become tiresome. Nature is never tiresome, and is always at hand. The landscape is the living image of Nature.
Therefore, Elsie and I wish for Corvallis and Philomath an ample, permanent greenbelt that grows as population grows, a greenbelt that does more than assure 'livability', but makes life here exciting and its future optimistic; a greenbelt that injects vibrancy into city life, provides stability for investments and immunizes against downtown decay. Success hinges on the actions of this generation. The time is now for townspeople to accord the greenbelt purpose a special place in their charitable giving. Our family and others have been doing this for 10 years and longer.
We need to remind ourselves that "In the beauty of the land lies the dream of the future." We are challenges to keep that dream alive, and it may be Now or Never.
– Charles and Elsie Ross, 1999