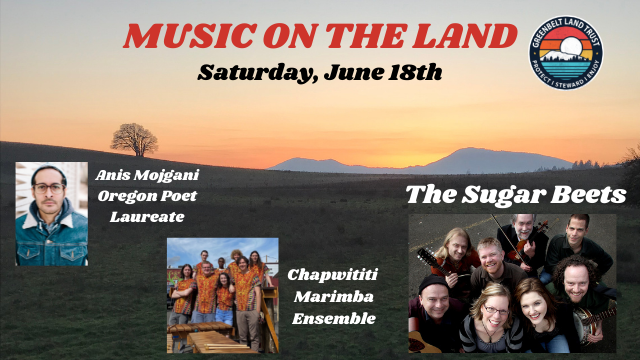 Music on the Land – a celebration of words and music in a beautiful outdoor setting at Bald Hill farm in Corvallis.
Featuring Oregon Poet Laureate Anis Mojgani, the music of Chapwititi Marimba Ensemble, and headliners The Sugar Beets!
Walk, bike, or ride the shuttle from the Benton County Fairgrounds to this fundraiser for Greenbelt Land Trust. Pack a picnic or buy food and drink from local food trucks, breweries and wineries. Please leave your furry friends at home – no dogs allowed.
Saturday, June 18th, from 5:30-7:45. Tickets are on sale now! General public: $20 in advance/$25 at the door. Greenbelt members: $15. Students: $15. 16 and under: free.